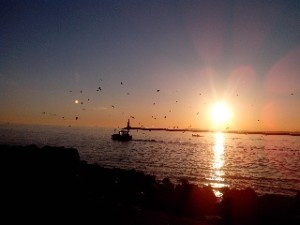 The best thing you can do if you have an extremely severe headache
(maybe a hangover…:D…) or if you just want to feel free, as if carried in someones' arms, is to go to the beach promenade in Warnemünde and see the most enchanting, extraordinarily fascinating, and visually stunning picture you may ever see.
This picture of Warnemünde paints you – the first rays of dawn brushing the sea surface – is just breath-taking. The warm, soft mix of reds and yellows in combination with the light blueness of the sky and the smooth sea is the best place to calm down and relax. In my case, I discovered this awesome image next to the light house at the beach promenade.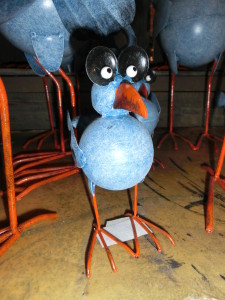 But WATCH OUT FOR the huge, thick
meatball-looking, greedy, creepy seagulls
….especially if you buy an ice cream.
Their synapses drive crazy when they see food, above all ice cream or fish sandwishes – yummy..:) – and you don't even get time to blink before the sea gulls appear like a bolt from the blue and snatch the food from under your nose.
It's funny for everyone else to see, but for the
victims of this feathered assault … What else can be said than the classic "Shit happens!"? These vast seagulls, how could I forget them, as well as, of course, their agressive contrast to the heart-warming, calm, unforgettable view of the rising sun.
Don´t miss it, it´s just awesome! 🙂