Look out for that little bakery shop Brotzeit (time for bread); hidden between the tall modern building fronts of Motel One, it looks almost too common to be noticed. But do pop in for a look, you won't regret it a second.
What awaits you there is candy for the eye and pastry to spoil your taste buds: little pieces of heaven with creamy fillings and lush fruit décor, chocolate toppings and sprinkles, lining up, waiting to be enjoyed. The greatest challenge is to decide on ONE (and maybe one more).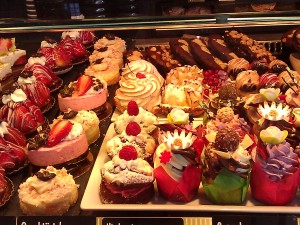 Do take the time to enjoy them with a coffee from their great coffee selection. They entice with lovely names such as Vanilla Sinfonie, and Cinnemon Dream; names which are but a foretaste of the bliss of the bitterness of hot coffee mingled with the spicy sweetness of the syrup of your choice.
You don't feel like sugar today? You are more in the mood for a hearty snack? There is a wide range of freshly baked bagels and rolls that go along with cheese toppings, fried eggs, bacon, rocket salad and much more. For a nice dinner at home I warmly recommend the crusty bread with various roasted seed toppings. My favourite: ADAM (EVE isn't too bad either)
The cozy atmosphere invites you to stay for a bit, but if the weather is too nice, take your tasty delicious bits TO GO and find yourself a nice seat in the park around the old city wall right behind the bakery shop.
If your mouth is already watering – stop reading; hit the road; ENJOY!
check them out on facebook
Opening hours:
Monday to Saturday: 7:30-18:30
Address: Am Vögenteich 24
18055 Rostock