"Möppen" – Fun while fighting 
Imagine this: You sit in the sun; it's warm and you're enjoy the weather, watch the people passing by and look what they are up to. Suddenly some medieval- dressed people with wooden shields, swords and spears appear. They start to fight each other like you have seen in movies like Braveheart. You wondering, is this a carnival or maybe you dreaming ?  Maybe something like this.
Surprise! It's none of it!
We are some historical interested guys who are performing early middle age fighting and medieval reenactment with fun and passion. 
If this seems hard to picture, visit this link for more detailed information.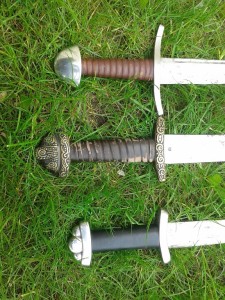 Our focus is to show how men and women lived from 500 to 1150 – how they dressed, what ate and of course how fought. It's not quite like in present movies, there are far more little things and of course errors in films which are not mentioned.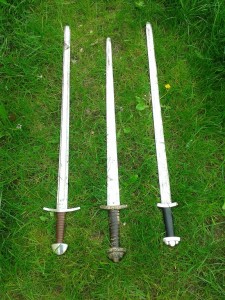 Our first priority is to have as much fun as possible; the second, to be as authentic as possible,whilst not being scared to show all this in public. We usually train two times a week at the open space in the Werftstraße, where a circus sometimes takes place or the Volkstheater was, two times a week and if the weather fits, we show up spontaneously ans at random around Rostock, at the Universitätsplatz, Stadthafen or at the beach in Warnemünde for example.
We like to get peopleto take a closer look at history and from an understanding of it, so we are happy to show some fighting and explain everything someone could want to know about the medieval or dark age. To be honest our group is just one of the smaller ones among many. But all the different fighters often drive to present themselves plus their fighting skills and medieval culture at huge middle age markets, where about 50 to 300+ people stand together at a field facing each other or just live together, like it was common in the past.
 To have and impression of what kind of numbers and ideas I'm actually talking about, have a look at this link, which shows one of the biggest middle age markets, in Neustadt Glewe.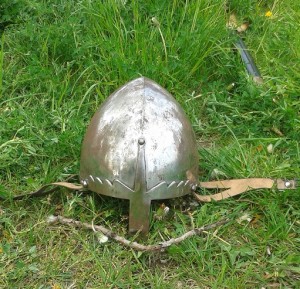 So if this aroused your attention, feel free to visit us while training each wednesday at 4. pm at the Werftstraße field opposite the Jet gas station.
 Remembering history means to continue the fight of each new day.
Viking-like regards, Wolf of the sea.