In Rostock? Hungry? Looking for an authentic culinary experience?
Search no more!  I've got just the place for you:
The "Bauernhaus" in Biestow.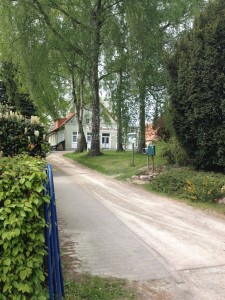 The Bauernhaus serves traditional Mecklenburgish food like Strammer Max or Bauernfrühstück. They also offer local beers (Rostocker, Flensburger) to go with your meal. If you're more in the mood for some afternoon coffee or tea, you should definitely order a piece of homemade tray bake like my favourite Apfel-Streusel, or some ice cream with typical Nordic toppings like Rote Grütze or hot raspberries (also great in winter) with it.
Not only the menu is traditional, but also the restaurant itself: the farmhouse was built in 1632. In 1907 it was first used as a restaurant, and has been a popular destination for family outings, hiking trips, and bike tours ever since.
The inside is made up of two big rooms. The wooden furniture and the old bar add to the rustic, cozy atmosphere as well as the walls, lined with deer antlers, and several other hunting trophies, and pictures taken throughout the farmhouse's existence. If the weather is nice, you can also sit outside. There are tables on the small patio as well as in the adjacent garden. There you can enjoy your meal feeling the warm sun on your skin, and breathing the fresh summer air, and also get a great view of the church, and the farmhouse's large lawn — which, by the way, is at your free disposal, so feel free to bring a ball and start a football match.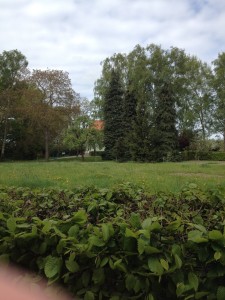 If you want an authentic, homemade meal for a reasonable price, take your car, or grab your bike, or just take a walk through the idyllic neighbourhood, and pay the Bauernhaus a visit.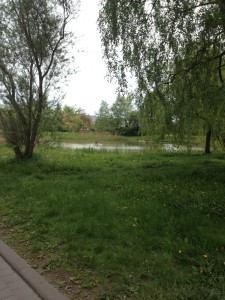 They're open Tuesdays to Saturdays from 2pm-10pm, and Sundays and on holidays from 10am–7pm. The weekends are usually pretty busy. If you have the choice, try to go on a weekday. If not, call ahead to make a reservation, or just take your chance. The owner, a very nice lady, will always do her best to find a place for you anytime.