You feel like relaxing and drinking a cocktail? I know where to get one – at Salsarico Warnemünde! If you visit at the happy hour between 5pm and 6pm you'll even get two cocktails at the price of one!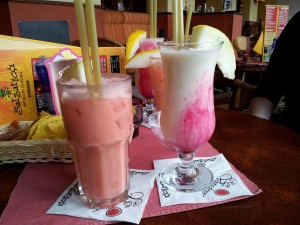 Salsarico is a Mexican restaurant next to the 3-D cinema at the light house in Warnemünde, a few steps from the beach. So if you've been to the movies and want to eat and drink something, it won't take you more than one minute to go over to Salsarico. After you've passed a large curtain you'll be welcomed by the sound of Spanish music and an easy atmosphere; decorative fronds at the ceiling help to keep the temperature on a comfortable level.
Besides a cocktail menu including about 500 (!!) different colourful cocktails they also offer typical Mexican dishes – burritos, enchiladas, fajitas, … If you want to eat more exotic, try their crocodile, ostrich or kangaroo meat!
You want to enjoy Mexican food but you're too lazy to leave the hotel? No problem. Make use of their delivery service!  And if you're in the city of Rostock you can also decide to visit another Salsarico agency near the city port! There the happy hour is even one hour longer!
Whatever you choose – at the end of a day dinner at Salsarico will be the cherry on the cake!