There are two Spanish restaurants in Rostock… but there is only one I would recommend.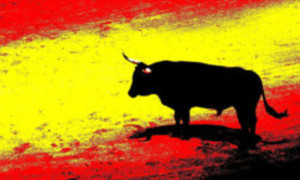 One Spanish restaurant is located at Rostock's city port where you get to look at the Warnow and some ships, and the other riverside and Gehlsdorf. So you really get a nice view, but that's already about everything Besitos has to offer.
 The better  Spanish restaurant is located Am Brink near Doberaner Platz. It's a small restaurant with limited seating. So if you plan to go there with a larger group you might want to call first and get some seats reserved. Yet, since there is a really relaxed atmosphere, there will always be a way to get you seated. 
Being a Spanish restaurant Bodega de Cervantes mainly serves different tapas. There is seemingly an endless list of different tapas variations. Thus, to make the process of taking orders easier, you get a pencil and a sheet of paper. On that little sheet there are the numbers of each and every tapa (as they are listed in the menu) and you get to circle any tapa you want to try. This way you and your friends order a number of those tapas and eventually everyone gets to try everything.
My personal favorite is definitely "Gambas al ajillo (¡picante!)" (Bodega's menu comes in Spanish with German translations underneath). Those Gambas al ajillo (chilli-garlic king prawns) really are "picante" and you won't get to order them without having the waiter warn you about how hot they are.
I'd also highly recommend to try "Pimientos del Padrón", which are also "¡picante!".. but not all of these paprika peppers. We were told that only one out of seven was hot, so it's always great fun to guess who will pick the seventh hot pepper.
If you'd rather try some tapa that isn't that hot, yet really good, try "Rayas de filete de vaca flameada junto al tomates secados"! It's slices of sirloin combined with sun dried tomatoes. Really worth it!
For the wide Spanish experience, order a glass (or a bottle) of Finca Sobreño red wine. I'm not that into drinking wine, especially not red wine. Yet this Tempranillo is really, really nice.
So go out, try Bodega de Cervantes, and spread the word if you like.. you don't need to though. I wouldn't mind Bodega remaining an insider's tip 😉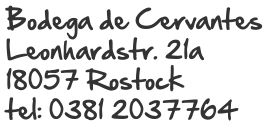 One last thing worth knowing: Each and every tapa costs anything between 3€ and 7€, but on weekdays (Mondays to Thursdays) Bodega offers the opportunity to order 16 tapas but only pay for 14 tapas.