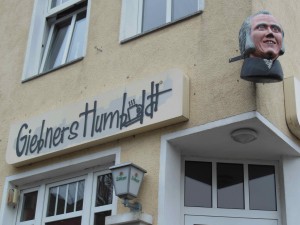 What to expect:
Although the Humboldt covers pretty much every mealtime, I would recommend this place if you're looking for somewhere to get a good breakfast at a reasonable price. It's ideal to start your day there when you're hung-over from 'last night' and don't have anything to eat at home. Even if you're somewhat late for what you might deem 'breakfast-time': It's served until 3 p.m.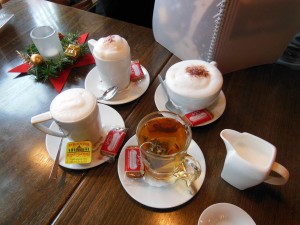 Breakfast prices start from 2,40 € and always include house-made bread rolls. My personal favourite is the Weichei-Studi: two bread rolls, marmalade, Nutella, cheese, cold sausage, butter, and a hard-boiled egg (3,90 €). Nothing fancy but still delicious. What is more, it can satisfy your desire for food for both breakfast and lunch as the bread rolls are huge.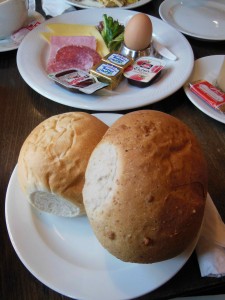 For people with a sweet tooth I'd suggest the Kinderfrühstück, which consists of a bread roll, Nutella or honey, a bowl of honey loops, a surprise egg, and a glass of milk or chocolate milk (3,90 €).
I once went there for dinner, which was definitely ok in terms of the price-performance ratio. However, I got the impression that they tend to use several finished products in order to have the food ready as quickly as possible. Probably because otherwise they wouldn't be able to cope with the high number of visitors: Since it is in the middle of the KTV – the most popular part of town among students – and right on the opposite of the campus Ulmenstraße, a lot of students come to the Humboldt. Thus, you'll be guaranteed to meet some locals!
Here's something else good to know: Humboldt has special lunch offers during the week between 11.30 a.m. and 5 p.m.
The interior decoration appears simple and practical to me: Long red leather benches cover the walls and dark wooden chairs are placed on their opposite sides. Inner walls divide the place into three small parts. Especially the part close to the bar provides a cozy ambience, as you are not disturbed by incoming people.        
Whenever the weather allows it, you can sit outside as well. For those of you who look forward to sit outside now, take notice that the street right in front of the restaurant can get busy during the day. I can't guarantee for an idyllic and quiet atmosphere. 
In general, the employees seem competent. However, they tend to get nervous and confused when the place is highly busy. 
 
easiest way to get there:   
1. take tram line 6 and get off at Saarplatz
2. walk down Ulmenstraße for 500m (in the direction of the pizza place Shirin)
3. enter the Humboldt on the right (the building with Humboldt's bust on the corner of the street) 
 
opening hours:
Sunday to Thursday 9 a.m. to midnight
Friday and Saturday 9 a.m. to 1 a.m.