I had always assumed Mecklenburg Vorpommern, with its "extensive hilly" landscape (Highest peak: Helpter Berg with 179,2m), didn't offer a paradise for climbing fans. There are, in fact, some recommendable spots in Rostock and the surrounding countryside. Many people have heard of some indoor-climbing spots like Bunker and the old sugar-factory in Tessin, but not so many have heard of a boulder spot in Rostock Schmarl.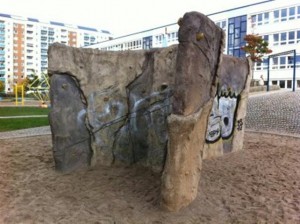 A month ago, a friend of mine asked me to accompany him to Rostock Schmarl for bouldering. I, as a beginner, had no idea first of all of what bouldering was and also no idea of where to climb in a concrete jungle. But to my surprise, hidden between the huge apartment blocks of Rostock Schmarl, situated in a school yard, and finely crafted with graffiti, I found this gigantic peace of artificial stone – "The Schmarlne Quacke". 
At first I was really impressed by the size of the rock, which is approximately about three meters high and five meters long. This really might not sound like much, especially in relation to normal climbing spots that commonly go up to ten meters in height, but it is certainly sufficient for bouldering.
Bouldering is typically practiced on large natural boulders or artificial boulders like the one in Rostock Schmarl. Unlike climbing, you don't use ropes. But don't panic! That's the reason why bouldering mats are out there for purchase, so that in case you fall, you will always land on a soft inviting surface. If you do not possess a crash pad (as you don't require at this spot owing to its soft-sand floor), make sure that the ground won't break any bones on contact. The "Schmarlne Quacke" is placed in a sand pit, so you'll be fine.
How to get there?
The rock can easily be approached by train and then bike. From the city centre of Rostock, just take the S-Bahn towards Warnemünde and get off at the "IGA-Park Lütten Klein" stop. From there on, just follow the sidewalk on the right side of the train station to Rostock Schmarl. This map will guide you.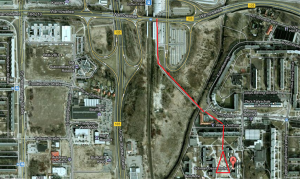 What will you need?
Basically all you need is – nothing, just yourself. But in order to master the "Schmarlne Quacke" I would recommend that you take a pair of climbing boots as they will ensure you better traction. Talking of better grip, you might want to use chalk as a hand drying agent.
The "Schmarlne Quacke"is really well suited for all different levels of climbing. I, as a novice, made use of the numerous "climbing holds". This really helped facilitate my climbing because due to the climbing holds you get a better grip and stand. The more advanced you become, the less help you'll need. A friend of mine for example climbs entirely without the help of grips and only uses the surface character of the rock with its natural gaps and holds.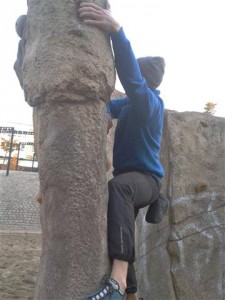 Can you master the "Schmarlne Quacke" and climb around the rock?
Push your limits!