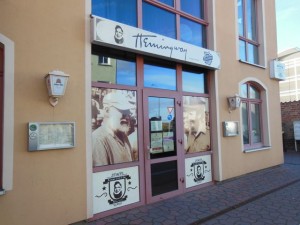 Thanks to a friend of mine, a student at Rostock's University of Music and Theatre (HMT), I recently tried out the restaurant Hemingway. Our visit was more coincidental than intentional: We went famished to the closest restaurant my friend knew, which happened to be just around the corner of the HMT.
When we entered the Hemingway, we spotted dark brown furnishings, which create a rustic but cosy ambience. The friendly waitress made us feel comfortable and was proven to be overly attentive: she asked us four or five times if everything was okay. And no, we were not the only guests. There were other students and two older couples dining at the same time. 
Referring to themselves as a pub, grill and bar, the Hemingway offers a little bit for everyone and is also an ideal meeting point for just grabbing a few drinks. With reference to the restaurant's eponym, they offer typical food from countries the American writer once visited or lived in. You can try African ostrich steak (11,30 €), Caribbean tomato stew (7,10 €) or an American turkey burger (7,90 €).
In short: a somewhat hidden but nice location with food for every taste and pocket.
easiest way to get there:
1. take tram line 1, 2, 5 or 6 to Neuer Markt

2. walk down Vogelsang and continue on Krämerstraße

3. take a left at the next crossroad and continue on Grubenstraße 

4. take a right at the second crossroad and continue on Am Strande

5. to the right: enter the Hemingway on the corner of Am Strande and Faule Straße
It sounds longer than it is. You'll get there within six minutes. 
opening hours:
Tuesday to Sunday
6 p.m. to when the last guest leaves
after-dinner tips:
Go for a walk either along the harbour or through Rostock's beautiful old town.
For music and art lovers: 
Check out the HMT for events. The selection is varied, tickets are cheap and the building – a restored monastery – is already worth a visit.