As you all know Rostock is located next to the wonderful Baltic Sea! You can't travel through the north of Germany without getting around eating tasty, yummy fish!
Everyone can eat frozen fish out of the supermarket but that's kind of boring don't you think?
The real challenge is to find a fish that basically jumped out of the water onto your plate! 🙂 We know the perfect place to go!
Visit Backfisch-Udo in Warnemünde!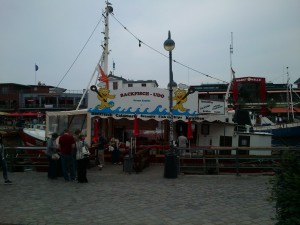 Backfisch-Udo sells his fish from a cutter that dropped anchor at the bank of the Warnow (the river that flows through Rostock and leads to the Baltic Sea).
What kind of fish can you buy? Believe us, you can eat lots of tasty snacks (everything without fishbones ;)): herrings,  rollmops, king prawns, shrimps, salmons,  kippers, plaices, mussels, fish&chips and calamaris. Germany is famous for its bread rolls – so of course the fish is served in a roll to take away.
What we think is really cool is that you get your fingerfoods like shrimps, calamaris, mussels and fish&chips in a newspaper (no, not a real one but it looks like one – convince yourself! :)).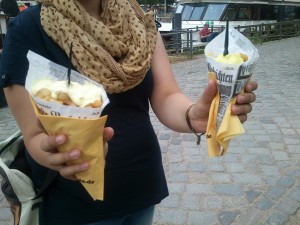 You can choose between 4 delicious dressings: curry, garlic, cocktail and remoulade. If you're thirsty you can buy the drinks every shop, restaurant offers. The prices for the food range from 2€ up to 4€ – so Backfisch-Udo is perfect for travellers looking for a low priced snack!
You can eat your fish in a beautiful surrounding. There are a few benches next by or you can walk along the promenade that leads straight to the beach which is amazing. If you're interested in boats this is the perfect place for you: from small fishing boats to big ferries, there's something for everyone.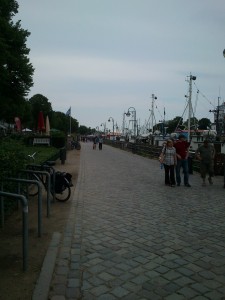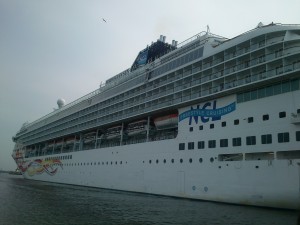 The best way to get to Warnemünde is to take the railway. All you have to do is to get out of the railway and walk along the promenande where you definitely stumble across Backfisch-Udo.
Enjoy your snack! 🙂
Greetings from
Anika Lundschien and Frauke Hahnen