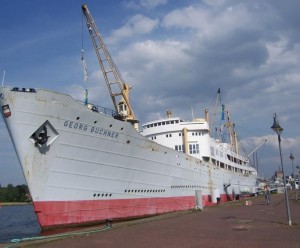 "Yo ho, yo ho, a pirate's life for me.                                                We pillage, we plunder, we rifle, and loot,
Drink up, me 'earties, yo ho.
We kidnap and ravage and don't give a hoot,
Drink up me 'earties, yo ho."
(Disney's Pirates of the Caribbean)
 
Yet another beautiful hotel in Rostock which I find amazing besides the Jellyfish and the Greifennest.
If you want to try something new, then the youth hostel ship "Georg Büchner" could well be exactly the thing for you. In the past, this grand old ship carried many goods between Belgium and Africa; Today, the ship rests on his long journeys across the Atlantic, and is used inter alia as a youth hostel for guests interested in Rostock. So don't let you put off from the elderly look of the ship – inside: it is up to date. By the way: the ship was named after the famous German writer Karl Georg Büchner.
The location of this ship is really convenient. It lies directly at the banks of the Warnow – right at the city harbour. There are many restaurants and bars  around the hostel. If you intend to visit the city centre, it will only take you about 20 minutes on foot. Right next door to it is the Neptune Centre : a small shopping centre where you can buy a considerable amount of food and personal-care products.
The youth hostel ship has a maritime design with a hospitable look and feel. It welcomes both   individual guests (backpackers and families), and larger groups (school classes, etc.). A night's accommodation starts at just 19.00€ p.p. including breakfast for juniors, for children from 3-6 years 8.00€, and for seniors 22.00€. In this case – "seniors" are people who are over 27 years old.
There are great places to meet other guests and share travel experiences, for example the TV and table tennis room. Via the traditionally wooden stairs, you can get from one deck to another.
A couple of my friends spent a weekend on the ship, and they really liked it. The staff was friendly, and they'll give you tips for day trips. I think that it must be very romantic at night  –  lying in bed, enjoying the peace and quiet, and listening to the lovely sounds of the shallow river Warnow.