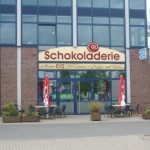 Shortly after I moved to Rostock, I stumbled upon a place called ''Schokoladerie de Prie'' or ''Chocolate Factory de Prie''. Intrigued by the simple fact that the store sign included the word chocolate (How can you go wrong with that?), I went inside to see what might slumber behind the slightly mundane storefront.
To my surprise, it felt somewhat like stepping into Wonka's Chocolate Factory. Granted, there were no huge edible mushrooms, no lickable wallpaper (though I could stand corrected as I haven't yet actually tried licking it) and no giant chocolate rivers anywhere. Luckily they managed to compensate for these deficits with a big chocolate fountain right in the foyer. For free sampling by the way. That's why it's not a bad idea to take someone with you. Unsupervised free sampling easily transitions into somewhat of a candy frenzy (yes, speaking from experience here).  But don't worry, the staff is perfectly tolerant and understanding.
The store is not made out of candy, but it definitely contains more chocolate than I've ever seen in my life: mountains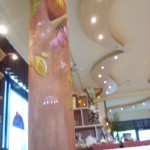 of truffles, a sea of ice cream and a forest of sweet figurines.
Right behind the entrance is a window that gives you a glimpse into the magical world of chocolate manufacturing.  For those of you who don't just want to look, but actually want to learn the craft yourselves, the shop offers seminars teaching the secrets of chocolate production.
A core highlight is without a doubt the huge variety of chocolate flavors the store has to offer. Of course you have your run of the mill classical chocolate flavor and some tamer alternatives like hazelnut, almond or honey, but you also have the option of taking a stroll on the wild side and can go with a spicy flavor like chili, ginger or pepper. For the not quite so adventurous of you, fruity flavors like cranberry, strawberry, and numerous others are also available. Maybe even stranger than the spicy flavors are the chocolate bars with herbal flavors. You have the option of choosing between fennel, parsley-ginger, rosemary and white dill (I'm not exactly sure how that's supposed to taste though). Seeing as I'm not a big fan of herbs, I've never gotten around to trying them in chocolate. Maybe one of these days I'll work up a nerve and just go for it.
One of the few things the factory is missing for me are some Oompa Loompas to complete the ambiance, but abundances of vertically disadvantaged chocolate store workers are often a niche too far. Otherwise, the store provides you with a good all-round and very…very sweet experience. The chocolate factory is definitely a must for all chocoholics or people who want something unique aside from the standard cup of coffee or piece of pie.