I am really, reall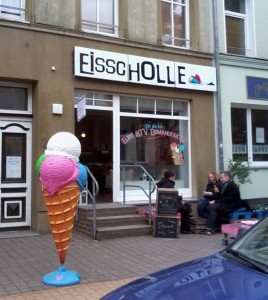 y thankful to have my flatmate (really!). Because if she hadn't shown me the little ice-cream parlour "Eisscholle Rostock" (Eisscholle means a sheet of floating ice in German) a few weeks ago, my spring wouldn't have been the same. It wouldn't have been so smooth, so sweet and as creamy as it is now. The 'Eisscholle' is located in the middle of the Kröpeliner Tor Vorstadt, and can easily be missed, because it isn't on a main street and just a small shop. To be honest I had never noticed it during winter time, even though I passed it nearly every day. But now since it has been getting warmer every day, there are always people in front of the shop, lingering around and holding crunchy ice-cream wafers in their hands.
 The best thing about this little shop is that the colourful ice-cream is self-made, not just some run-of-the-mill mass product. And in my opinion you can really taste the difference. The range is maybe not that big (especially when you compare it to the "Eiscafé Milano" in the "Rostocker Hof" at the "Kröpelinerstraße" —  where I always look like this because I not able to decide between the many different sorts of ice-cream). But I am sure that everybody leaves the "Eisscholle" happy, whether you like the classic "chocolate and strawberry" or prefer the more special "sky blue" (which appears in a luminescent bubble-gum blue and tastes just incredibly sweet). Last time I even discovered the flavours "beer" and "sparkling wine", but I wasn't brave enough to try them (I normally stick to my favourite "cookies" — with real crunchy cookie bits in it!).If you prefer it even sweeter you can choose between different toppings like the Koala Bears or Smarties. In addition to the delicious ice-cream, they offer creamy Milkshakes (with really fancy flavours like Oreo, Snickers, and Twix for example) and tasty homemade cakes. On top of that great range of mouth-watering goodies, the little shop has a cosy atmosphere itself — It is individually and lovingly decorated by colourful paintings and pillows. You maybe understand now why I am always kind of proud of myself, when I pass the "Eisscholle" without sneeking in and ordering one of the cold, sweet snacks.
So don't hesistate any longer. Look out for the "Eisscholle" at the "Waldemarstraße" 5 and be prepared to get hooked (like I am)!