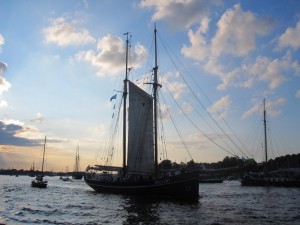 Once a year both people (around a million) and over 250 sailing ships from all over the world gather for the most important spectacular event called "Hanse Sail" in Rostock. During all festival days, you can take a look at various ships, whether old traditional sailing ships or modern yachts.
The Hanse Sail can be explained as a mixture of funfair, festival and cultural sailing ship meeting. The harbour area is full of people and so is the water with boats. You can attend a boat tour, go in the air with a big wheel or just sit down on some benches and drink some beer which you can get from one of the many  snack bars. It is easy to get in touch with both local people and people from abroad.
If you don't like too much noise, it is also possible to travel to Warnemünde and see many ships entering the mouth of the Warnow.
This year the Hanse Sail will take place in Rostock from 10th to 14th of August. Further information is available on the official internet site of the the Hanse Sail.
A warning to drivers: In case you're travelling by car, pay attention to the streets and parking spaces which are very likely overloaded during the Hanse Sail. It once  happened to us that we stood in a traffic jam for hours until 3:00 am in the morning. This would probably go on your nerves, so try to avoid streets then.  In order to do so, The public transportation is the best way to go.
Some random facts for the Hanse Sail 2011:
-expected visitors: 1 million
-10 stages with dozens of music acts
-funfair rides
-water ski show
-election of Miss Hanse Sail 2011
-uncountable sailing ships
-a huge firework on Saturday night.
You will definitely find some visual impressions after this weekend in our blog.
Tell us your experience of the Hanse Sail. What's your story? How did you enjoy this weekend?