You are a fan of fish dishes and travelling by boat or ship? Then you certainly have to visit Fischland Dar0! It's a Baltic Sea peninsula situated between Rostock and Stralsund and is famous for its small fishing villages and resorts like Wustrow, Zingst, Prerow, etc. You can find a full list of Baltic Sea resorts of that region here. Popular dishes you have taste are different sorts of fish like smoked or baked fish. Souvenir shops which you can find almost everywhere have such typical maritime products like amber – the gold of the Baltic Sea. For those of you who love everything amber-related you have to visit the Bernsteinmuseum (Amber Museum) in Prerow. There is also a beautiful camping site right by the sea where you can pitch your tent right among the dunes.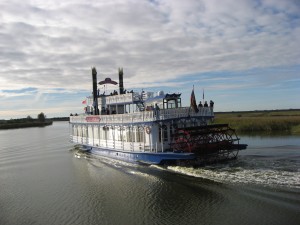 Furthermore we can recommend the countryside rich with flora and fauna,e.g. its pine woods along the Baltic Sea and the grassland at the "Darßer Bodden" which you could describe as a sort of coastal inlet. The best ways to explore the region are by bike or by ship, e.g. by sailing boat. For those among you who love extraordinary ways of travelling there is a fantastic way of exploring the waters via steam boat. The paddle steamer "Riverstar" is a nostalgic vehicle resembling those you can find in the U.S. travellling on the Mississippi and you may spend a fantastic time with entertainment and great food on board as well as enjoying the view. You will find all the necessary information about timetables and prices here.
With reporting by Sandra Stüwe.