Hi Readers!
You know Neubrandenburg? Certainly not but today YOU have the chance to become acquainted with this quite nice town 🙂
Imagine you stay somewhere in MV (e.g. Rostock) and tried every bar and club – like these two guys: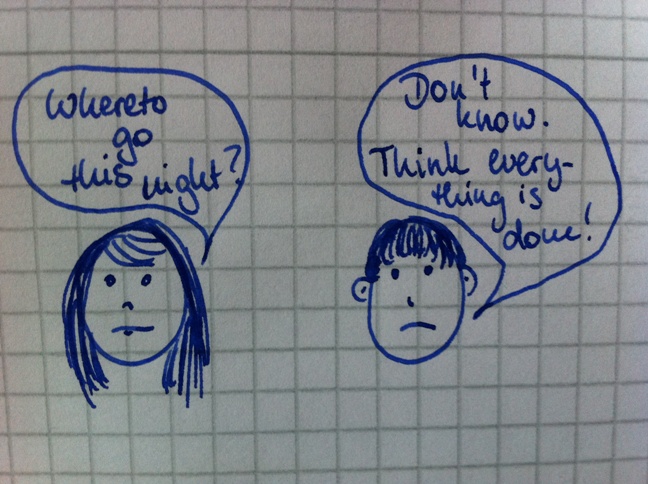 Here, I'll help you to find the best locations.
First of all I thing the best way to get to Neubrandenburg (NB) is taking the train (Mecklenburg-Vorpommern-Ticket)
So, now, that you are in NB we'll start with two bars, you can go to:
Rumpelkammer here you can chat among friends and – of course – have some drinks. In addition you can dance to the music house made by the DJ 🙂
There are a lot of events like "Herzblattnacht" and so on – you can read about on the Internet.
The second one is the so called "Koni" This one is on the 13th floor of the HKB (house of culture and education) and so you have a nice view over the whole town.
You can have one litre of cocktail for just approx. € 5 and the icing on the cake is the bar with special items about the former GDR.
A little flaw might be the fact that the bar is an entire smoking bar.
After you have enjoyed one or two litres of their special cocktails you might be ready to get started for Neubrandenburgs nightlife. Just have a look below to get the best addresses for clubs and discotheques:
There is the club "Colosseum" in the eastern part of the town. Especially on Fridays it's well patronized, thanks to the "Euro Deal": every beverage is just for € 1 and the entrance is € 5. On Tuesdays there is "Ladys Night": free entrance for Ladies as well as a free sparkling wine. There are three floors: Oldies, Black-music and Mainstream so that you can choose and change the location and music whenever you want.
A nice place, especially in the summertime is the "Alter Schlachthof". Here they offer a barbecue in the backyard, like for the greatest event in August – the big "Beachparty", with Sangria, Bungee jumping and so on.
Otherwise there is the "Fachhochschul-Club", something we highly recommend to students. Sorry but I do not know a lot about this club, besides the fact that on Tuesdays  go like a train 😉 so try it and post your experiences!
Another one is the Apart, but only for the "older ones" between us 😀 25 years of age and over. Apart is right next to the Alter Schlachthof.
Sometimes there are some popular crooners, so pay attention on which day you will go there 😉
Oh okay, but don't be scared they also play "normal"-songs, not just only "Schlager" (typical German folklore music).
So … Hope I could help. And please! let us know about your trip!!