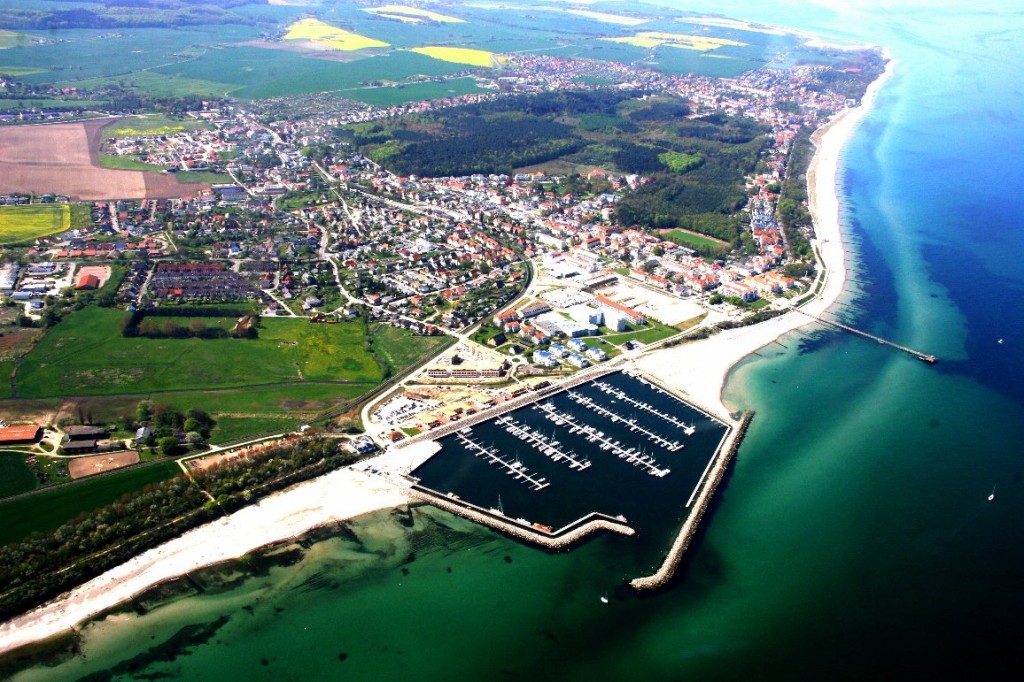 Sun, water and sand. These are the images which come to my mind when I am thinking about my hometown Kühlungsborn, the biggest seaside resort of M-V with 7000 inhabitants, 25 kilometres west to Rostock. It's pretty close to Heiligendamm, the oldest seaside resort of Germany and former scene of the G8 Summit 2007. On the photo above you can see all the beauty of the town, which can be (mainly by the inhabitants) colloquial divided into "east" (where a campingsite is situated)and "west" with its city forest in between and a new marina in the eastern part. It has the longest promenade of Germany (over 3 km) and a broad sand beach which spans over 6 kilometers.
It is very prominent for its many historical buildings of early 20th century (which have been preserved, luckily) and its light railway "Molli" which connects Kühlungsborn, Heiligendamm and Bad Doberan.
Short historical Overview:
Kühlungsborn was founded on 1th of April 1938, a fusion of three former towns called Fulgen, Brunshaupten and Arendsee. Today, 3 seagulls on the city coat of arms represent this merger.
In the fifties, the East German gouvernment expropiated most of hotels and boarding houses. Most of them were transformed into holiday and health resorts controlled by the FDGB, the trade union federation in East Germany.
In summer, Kühlungsborn was swarmed by holidaymakers, since the citizens of East Germany didn't have so much choice and could only travel within the bounds of the socialistic countries.
After the flow of tourists slackened by reason of the end of the GDR, Kühlungsborn has again become more and more a popular destination for people from Germany and recently for people from abroad.

The very last question, before I release you with some photographic impressions – what can you do in Kühlungsborn? Besides laying down on the sand and leaving all your cares behind, there are plenty leisure-time possibilities which are among other things:
make a ride on a "banana boat"(pulled by a motorboat) or pedal boat,

play some volleyball

take a ride on the "Ostseejumper", a speed boat which takes you to Warnemünde in 15 minutes


or – in my opinion both the weirdest and most awesome thing to do – watch a film in the "beach cinema", a screen installation on the beach where you can sit down in a beach chair, have a drink, feed seagulls with popcorn (this is not an invitation, since it's forbidden to feed the seagulls) and enjoy the latest blockbuster with an eye towards the sunset over the Baltic sea.
In the evening, the whole city cares for your well-being. There is a vast number of restaurants and pubs, which can be most frequently found in the parallel street right to the beach. In that case: Cheers! I wish you some boozy nights in the streets of Kühlungsborn!.