The lush smaragd greenery sways over sauntering heads as I approach a hidden gem in the city center of Rostock. Away from the bustling crowds of tourists, Pesto Peter is an oasis in hiding with its wooden benches planted under sprawling trees, only feet away from one of the most charming parks Rostock has to offer. Here at the "rose garden", sprawling beds of roses hug the public green, and at its center a cooling water fountain. Perfect for fighting off the brute force of the sun, by dipping your feet into the water basin or enjoying the fountain mist from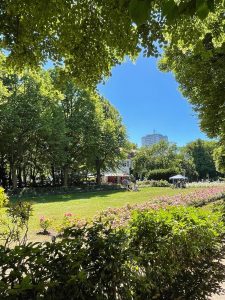 a picnic blanket further away.
It is in many ways the perfect place to take time and smell the roses.
If the expedition through the bushes and bushes of roses leaves you yearning for sustenance, Pesto Peter has both the view and the price point to make your heart bloom like the abutting roses. Most dishes are around five Euros, which is a remarkably low price for its house-made pesto, burgers, and soups. It may look like a burgundy red snack stand, that has been teleported into the middle of a baroque rose garden, but looks can be deceiving.
Their noodles are always al dente and their daily offer is an enticing explosion for the tastebuds, for example, I've had the chance
to taste their wild garlic and macadamia pesto, and now I wish I had jars filled to the brim with it.
However, if paying hard-earned money for pesto and noodles is not what you imagine a worthy investment to be, their juicy and crunchy falafel burger might rather fulfill your heart's culinary desire.
Warm sourdough buns filled with salad, a slice of savory tomato, and the falafel on top, are fantastic for recharging after a day of trekking through Rostock whilst craning your neck to look at the colorful architecture reminiscent of the city's rich Hanseatic past. In difference from other spots' falafels, this fragrant falafel is soft and moist on the inside and crunchy on the outside.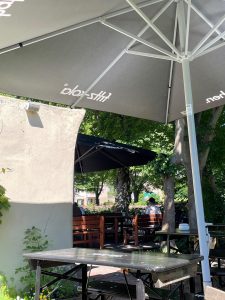 If you wish to stick to the basics of a snack stand, just go for the fries, but you should forgo both ketchup and mayo and choose the spicy ginger-garlic sauce.  It is savory; it is tangy; it is zestful; it is the perfect match to fried starchy potato slices. And it is worth the paranoia of garlic breath… Whenever I hurry through the city and pass by Pesto Peter I always find myself extremely close to skipping class in order to get another taste of the sauce, that's how addicting it is.
I have spent quite some afternoons there sipping a latte macchiato in their outdoor armchairs, reading a book with the sun tickling my nose whilst the leaves of the trees brush against each other. Even though it is near a busy crossroad, the bushes diminish the noise quite competently.
Every now and then, the snack stand will remind you of its existence, with its old speaker being used to proclaim an order is ready to be picked up. But apart from that, Pesto Peter feels just like Neverland for its guests: a place where time never passes.