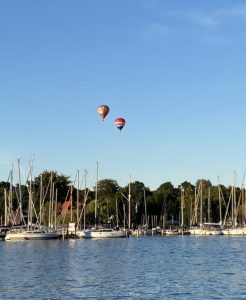 Recently I was asked what I would take with me if I had to leave Mecklenburg-Western Pomerania. Besides my personal belongings and my family and friends, the first thing that came to my mind were the amazing summer evenings by the harbour of Rostock.
The so called Stadthafen is not a place known for its beauty because there are old paved roads, not so many green areas and a big dusty area for parking. Rather, it is a place known for its amazing vibes — especially in summer. In your minds eye, you can imagine a place that almost everyone (at least young people) enjoys to be at. It is in the center of Rostock, located on the banks of the Warnow river with a fantastic view over the district of Gehlsdorf. Imagine a place where people get colourful and delicious cocktails in bars and restaurants, which they then enjoy in beach chairs while watching a sunset which doesn´t require an Instagram filter because of its unfiltered perfection. While watching the sun set, you can also gaze on the many sailing boats all over the place. There are little ones on which kids learn how to sail, bigger ones that remain in the port, and also some between that take part in sailing competitions.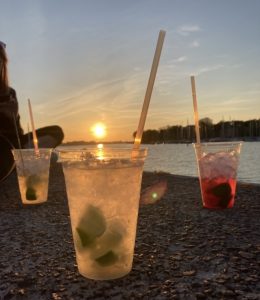 The Stadthafen is a place where you can hang out with all of your friends and just talk about everything and anything. Many groups of friends also bring their BBQ. Imagine going for a walk there and smelling all the different odours of grilled cheese, charcoal, delicious meat and fresh bread (-  and let me tell you it makes you plan your own BBQ at the Stadhafen).
The place is also known for many people playing outdoor games. Particulary popular are Viking Chess and Flunkyball. Both games are played in two teams with the need to throw something. While the goal of Viking Chess is to hit the wooden King with a wooden block, the goal of flunky ball is to hit a bottle with a ball and to finish a different bottle of beer as fast as possible.
If you are new to the city, the Stadthafen is a great place to make friends. Join the fun, start a conversation, or become part of a Flunkyball team. It has probably never been that easy to get in touch with young people in Rostock than here in summer, especially as almost everyone is in a good mood, singing and dancing, and the whole place seems to become a big party once the sun has set.
I would recommend every (young) person grab a blanket and some friends and go to the Stadthafen in summer. On your way there, you should get a beer or a different drink as well as some snacks at the local supermarket to enjoy this special place to the full.
And if you are a person that thinks `well I don´t feel like I want to throw myself into these crowds`, it might be a good suggestion to rent yourself a SUP to watch the colourful bustle of the people from the more calm waterside.