As a group of four students: two of us German and the other two exchange students from Korea, we decided to create a little guide to show the latter two a local insight to Rostock. Check out our other blogs here and here.
Q&A
1. I live in Erich Schlesinger Strasse. Where is the nearest mensa from here?
You can find the "Mensa Einstein" on the first floor in the Erich Schlesinger Strasse 19 nearest to your locations. All in all there are seven cafeterias (Mensa) in Rostock.
2. I live in Max Planck Strasse. Where is the nearest mensa from here?
The closest Mensa to your location would be "Mensa Süd", which is pretty great as that is the mensa with most seats and an enormous variety of food. 😉
3. When does the mensa open, and when does it close?
The opening times vary between the different locations (usually they are between 11am to 2pm). You can check out the opening times for the mensa of your choice here by clicking on details.
4. Can I pay in cash if I don't have the mensa card?
No problem! If you don't have a mensa card, you can easily pay in cash. Be aware that some checkouts only take mensa cards and some take both cash and mensa card. Look out for the signs.
5. My friend is vegetarian. Does mensa provide meals for vegetarians or vegans?
The mensa offers vegetarian and vegan food. They are marked as "vegetarisch" and "vegan". Additionally, there are labels for other allergenes e.g. Gl (contains gluten), Fi (contains fish), En (contains peanuts) etc. As a vegetarian you can easily combine a great meal with vegetables, a side dish and some meat substitute. As a vegan it can get difficult sometimes as there are fewer options and sometimes you'll just have to stick to dry rice and vegetables. 

6. Where can I get and charge the mensa card?
You can get the mensa card at every checkout in all of the mensas. When you first get it you have to pay a deposit of 5 Euros and 5 Euros will be your first credit. You can put credit on your mensa card by using one of the charging machines; you can find them in every mensa.

7. I heard that the mensa gives students a discount. How can I get a discount?
Yeah there are discounts for students. Every meal has 3 prices: the first price is for students; the second for employees of the university, and the third and most expensive one for all other. You just show your student id and than you pay the student price.
8. Where can I check today's menu?
You can check the menu on this website. You can also register for the mensa newsletter and get the meal plan every friday for the the next week.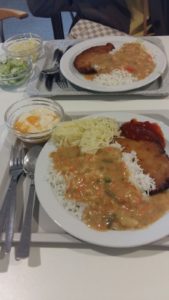 Impressions:
@Gritt: "I love the variety of food the Mensa offers, where everyone can find something they like. Best for that would be the Mensa Süd where I am when working in the library, but I am usually in the St Georg Mensa as that is the closest location when I have courses in August-Bebel-Straße."
@miss_different: "I really like the mensa Kleine Ulme und Ulme 69 because they are very close to where I live. The dishes are really good and vary from to day to day. The prices are affordable for students, and you can even get take away meals. Additionally, they offer salads, dessert (ice cream, pudding, cake, muffin, etc.) and various drinks (fritz-kola, Fanta, Sprite, water etc.)"
@yeainmoon: "Thanks for the answers to my questions; I found that mensa süd is the nearest one from my dorm. It takes only seven minutes to get there, so I often have lunch there these days 🙂 They offer a variety of dishes such as meat, pasta, salad, and potatoes. Plus, they also have food for vegetarians!"
@minjookim: " I usually go to mensa Einstein, which is located at the entrance of my dorm(Erich-Schlesinger). There are less dishes for vegeterians than in mensa süd, but meat, beef, salad and pasta are so delicious. I really recommend mensa Einstein😊"