Why should I write about a bar with a strange name like that?
Well first of all because in Rostock there's nearly no bar without a strange name and by the way, what is a not-strange-kind of name for bars? I don't know.
But see, I'm originally from Berlin and I have of course not seen every bar in Berlin, but quite a few. We have bars by the water we have bars with sand on the floor and palm trees inside where they serve salty popcorn with every order but:
I never found one, where you are supposed to take the shoes of.
@Barfuss you can! And you will.
May I introduce "Barfuss" to all you thirsty travellers:
It's a real cute and famous Bar in Rostock right in the centre of our nearly  never sleeping  KTV. They best about it is its fancy conception: large, heightened lie-down-areas with little tables in the middle for you can loll together and also have a place for leaving your tasty cocktail… or tea…or coffee or softdrink or whatever you prefer. (It's also inviting you to fall asleep if you don't pay attention;)
The Cocktails are between €3, 50 (non-alcoholic) and €8. You can have it as 1L -cocktail, too (Then they cost more, I don't know the exact prize). In the daily Happy Hour between 7 – 9 pm you even save about 2€ per cocktail.
On Top of the very special atmosphere, which makes you feel like being part of an old roman festival, and nice prizes they serve real exotic snack stuff: cross ants or mealworm and if you're lucky you can also try fried grasshopper.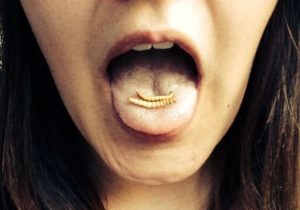 If you are not the exotic type, they also have usual stuff like peanuts. What I found special concerning nibbles is that you can also have Smarties or even fresh, warm prezels for only €1:  the right kind of thing after a few cocktails if you ask me 😉
After all, there is a small smokers room inside (which is not the place to stay the whole evening if you are sensitive to smoke) where sometimes Soccer is shown on a huge screen and if not, you can play video games there. Also funny to watch if you are not the gaming kind of type.
If all this makes a grate bar? Go in and find out! 😉
Cheers.