I'm the happiest girl in the world right now because ice cream season has started again! I love ice cream, and for me it's as much a part of summer time as tanning in the sun and trying to get the perfect tan between not getting too red and thus looking like a lobster and not staying too white like noblewomen in the past. No ice cream, no real summer!
But where can you find the best and most delicious ice cream in Rostock?
There are many different ice cream shops around, but for me there is only one I would go to every single day: the small but really cute ice cream shop called Eisscholle. It opened on June 1st, 2011 and is located in the Waldemarstraße 5 in the KTV. 
In this comfy little ice cream shop the best ice cream in town is guaranteed! It gets its cosy atmosphere from the beautiful light-blue wall colour that reminds you of a blue summer sky, the nice pictures of guests on the wall and modern chairs made of wooden pallets both inside and outside of the shop. Eisscholle invites you to have a feast with quality, trendy ambience and diverse ice cream variations.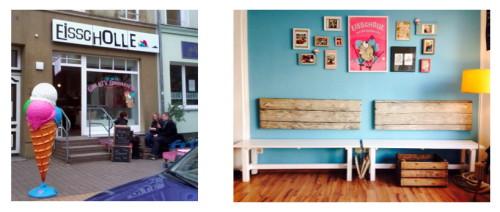 The diverse types of ice cream change every few days and are sometimes really crazy and unusual, but still so incredibly tasty. Next to "peanut-butter-wasabi-nut-ice-cream", you will also find, for example, "milk-ice-cream" with "Milchschnitte" (it's some kind of a little chocolate cake snack filled with a rich milk cream and almost everyone – I may exaggerate a bit – loves it, especially children), "chocolate-bar-ice-cream", "white-chocolate-ice-cream" with sesame seeds and chopped and caramelized nuts, "gooseberry-ice-cream" and "chocolate-rum-ice-cream". One day I even found "beer-ice-cream" in the range. But if you don't like the crazy kinds of ice cream there are also the usual kinds like "cookies", "stracciatella" and "strawberry". When choosing "cookies" you even find cookie pieces in your ice cream – delicious! You can also top your ice cream with different kinds of toppings, e.g. cookies, crumbles, jelly bears, or different kinds of sauces or whipped cream. For me the best ice cream tub consists of a scoop of "cookies" with caramel crumbles and a cookie on top!

Eisscholle also has a kind of campaign every week in which you can write down your dream ice cream on a dream card and put it into the dream box located in the store. With a little luck, Eisscholle may then create your dream ice cream very soon.
In addition to ice cream, you can buy drinks like coffee, cappuccino, shakes (e.g. oreo-shake).
The prices are €1.20 per scoop, €0.50 per topping and €2.40 per jumbo-scoop. The 'normal' scoops are H U G E – you nearly get two scoops for the price of one. It's truly worth it!
Eisscholle is open in summer every day from 11:00 am to 09:30 pm, and in winter from 12:00 am to 06:00 pm.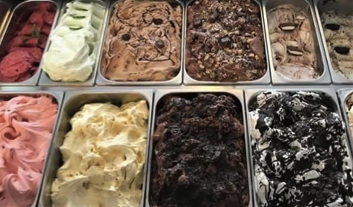 I'm pretty sure that Eisscholle has something for everyone's taste – and if not, that can be changed (see above). Well, the only thing that's left to say is: do your palate a flavour and go to Eisscholle. You won't be disappointed!