Ever heard about disc golf?
It is a great – but still unfamiliar – activity to do in Rostock. The Barnstorfer Wald gives you the great opportunity to exert this great sport – in a beautiful surrounding. Take some friends with you and join.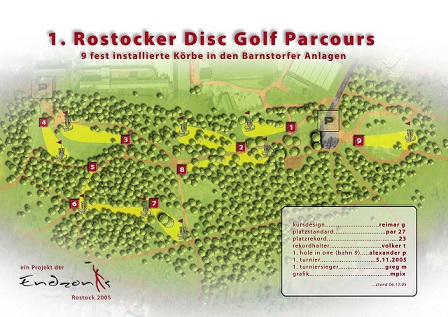 You will discover a beautiful 9-hole long disc golf court. Experience how unique disc golf is from the beginning because you will recognize the special application of natural elements like trees, bushes and stubs fast. As you are throwing your discs you see the sun shining through the different trees and you will observe how the special and remarkably Topography changes at every hole. You will start with a 66 meter long hole where you have to circumvent several trees that are found on your right side. What is so unique and beautiful at this one is that your tee pad (where you begin the hole) is right next to a beautiful ornamental cherry tree which will flower handsome in spring.
As you go on you will come across holes that require different kind of throws because the distances between tee pad and hole are getting extended and the circumstances are changing.  In the summer lots of students and families love to enjoy the sun on the meadow next to hole 3. They make a BBQ or do slacklining. Therefor be careful while throwing the disc.
My favorite hole is number 6 because you are standing in the middle of the beautiful surrounding in the Barnstorfer Wald. You have trees everywhere and have to look accurate to find the next target. I love to hold on for a second – just to listen to the birds singing. The distance is more than 103 meters long and you have to throw the disc through a long and narrow passage, encompassed by trees and bushes. It takes some practice here but later on you will love this part of the course. It is extraordinary.
As beautiful as the course started it will end because you walked around the entire Barnstorfer Wald and at its finish you will end up where you have started – close to the pretty ornamental cherry tree – at the skater park.