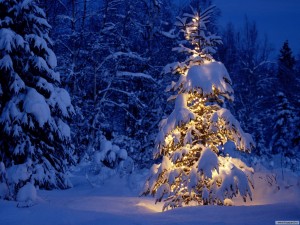 Germans all over the country celebrate their Christmas days in a very similar way. That is at least what I noticed (tiny differences allowed).
"Heiligabend", as the 24th of December is called, is considered as the first day of the festive. During the day people generally do things like decorating the Christmas tree, preparing meals for Christmas Eve, or they even shop last-minute-presents.
Usually, we spend the Christmas Eve in the smaller circle of the family, which means my brother, my parents and my granny. For dinner we have potato salad with sausages and meatballs. Subsequently, we do "Bescherung", which means the giving of Christmas presents. The atmosphere is of course very excited and special. Afterwards we simply sit together and have some drinks.
On Christmas Day and Boxing Day which is in Germany the First and the Second Christmas Day we either go somewhere for having brunch, or we invite my aunt, uncle and granny for having Christmas roast in our home.
This year will be different because I will not be home on "Heiligabend" for the first time and just visit my parents on Christmas Day, so let's see how it will be this time. 
Merry Christmas to everybody who is reading this. Enjoy your time (and don't forget to keep your cat away from the Christmas tree 😉 )