Wanted to experience horse power in Warnemuende? Then you had a great chance to have a look at fabulous Polo horses from the 11th to the 13th May 2012.  The second "Hublot Beach Polo Ostsee Cup" took place in Warnemuende right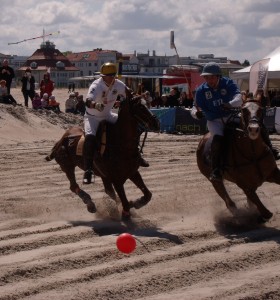 at the "teapott".
The area where the Cup took place ran right at the beach, and people had the chance to watch world class Polo with 6 different teams. The players were from Germany and also Argentina. Each team consisted of 2 players, either national or international. Another main part of the tournament included around 50 well trained Polo horses from Argentina. They had 3 days to fight for the crown. On Saturday they had to perform in very tough conditions because player and horse had to struggle with very hard wind (Bft 8-9, around 40 knots).
People had a great chance to experience the Polo Cup very closely, and it was very often breathtaking because the horses and their players brought the game very close to the edge of the field. Another awesome part of this event was the price. It was free! You also had the opportunity to buy cocktails, little snacks like Mutzen or clothing. VIP's and other persons who wanted to enjoy this Cup in a noble way had the chance to purchase tickets for the VIP tent, and to enjoy the Cup from a little higher place, other special things and had a great overview.
It is said that the tournament will take place a third time in Warnemuende  next year.