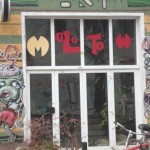 Looking for a place to go without having to dress up or spend a lot of money? An alternative to standard, rather boring bars and cafés? Then Molotov is the right place for you! It's quite different from other places in Rostock, that's why it has it's core of loyal regulars, who appreciate this 'otherness'.
Whenever I am there, people are very friendly and outgoing. It's a laid-back atmosphere and the bartenders are nice to chat to.
The drinks there are a real 'Schnäppchen' (=well-priced)! You can get a beer for just 1,90€ or a long drink for 2,50€. I had a 'Bloody Mary' — it was very good…and very bloody.
You can either sit at the bar or hang out at the back on one of the cozy couches. 
If you get bored of just hanging around and drinking, or if you simply drink too much, you could get yourself a little snack (crisps, peanuts or peanut puffs are available for only 1€) or you could work it off in a table football or darts match. What I think is funny is that the toilets aren't divided into "men" and "women", but into "standing" and "sitting". So boys, you can decide for yourselves!
…of course, girls can do just the same 😉
Besides that, the floor and walls are designed very colourfully and artistically! But not only the toilets are colourful, the front of the Molotov is painted with bright figures, so you can't miss it!
All in all it's a nice place to spend an evening with your friends : it's different from other places and so are the people!