In Rostock?
The weather isn't that great? – Still want to do something fun?
How about going to the biggest museum for marine science in all of Germany!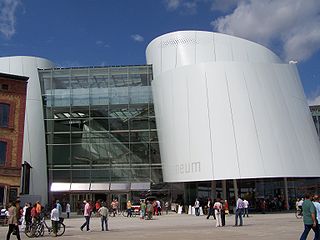 All you have to do is hop on to a train and go to Stralsund. 
Stralsund has one of the biggest aquatic exhibitions in Europe:
– the OZEANEUM.
There are both countless fascinating kinds of fish, tons of other things to experience and enjoy, and best of all, a giant blue whale hanging from the ceiling.  
Trains to Stralsund leave every two hours from Rostock and the OZEANEUM is just a twenty minute walk from the main station in Stralsund.
This is an all day activity, so plan accordingly. It takes some time to go to Stralsund and you don't want to have to rush through the exposition.
If you want to bring your own food and eat it right beneath the giant blue whale, thats ok. If you don't, the OZEANEUM has two Restaurants which serve really good organic food for a very reasonable prize.  
The OZEANEUM is open every day from 9:30 am to 7:00 pm. 
The entrance fee is 14€ for adults and 8€ for children and students.
Enjoy a great day!