Rostock has a lot to offer when it comes to cafés and bars. But for me, to get a coffee and some cake is always much more than just eating and drinking, I just love the procedure of meeting someone, going for a walk and then having some good coffee and cake at a nice place. For me, the best place in Rostock to do that is Café Waldenberger in Waldemarstraße.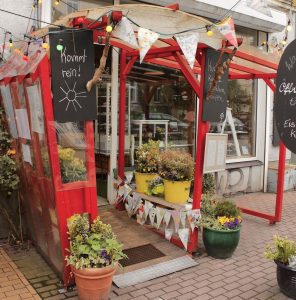 The café has a remarkable, colorful look with its pennants, chains of lights and self-made furniture. You actually cannot overlook it when you walk through the Kröpeliner-Tor-Vorstadt. You can sit both inside and outside on the street on different seating facilities like sofas, chairs that look like they come from grandma's garden, or a Hollywood swing. The people who work there always have a smile and a nice greeting on the lips and they bake the most amazing cakes and tarts, fresh from their little kitchen, so you can see (and smell) that everything is freshly baked and the ingredients come from local places. My favorite cake there is the Russischer Zupfkuchen, which is basically a cheesecake with chocolate crumbles on top, but I can also recommend the Apfelstrudel, a rolled apple pie which is served with vanilla ice cream or one of the little fruity tarts. (Attention coffee lovers!) the coffee is also very, very good.
But what I like the most is that the owner also uses the place as an event location. During summer (and winter, when its not a pandemic) you can listen to concerts from local musicians, e.g. at the moment every Thursday from 4-8pm you can listen to Jazz concerts outside when the weather is good. You can check all the news on their lovely Instagram page!
Café Waldenberger is a great location to spend the afternoon with your friends or family, and I promise you will love it!