Welcome back food lovers to another amazing and sense-appealing restaurant review in my gluten free guide series. As you might guess from its title… this series is all about food and also about all the famous, trendy and uprising food places in Rostock that offer gluten free and allergy friendly alternatives. So, put on your (imaginary) glasses, grab your smartphone or other memorising tool of choice, and then let's get started with today's blogpost!
Before we start, here is a little reminder for you: you can read all of the blogposts from the gluten free series guide right here. Looking for a specific food place? My first gluten free guide was about the "Bella Vista", an original Italian restaurant which is known for its creamy and flavourful risotto that feels in your mouth like a velvet creation from heaven. In my second review I talked about "Otto's Restaurant & Hafenbar", a floating restaurant which serves the softest and richest chocolate mousse that melts in your mouth like a snowman in the warm winter sun. My last blogpost was about the "Rost Dock", a bar bar constructed of urban intermodal containers, where you can enjoy refreshing, ice-cold summer cocktails that unfold their aroma in your mouth like an exotic flavour bomb.
In today's blogpost I will focus on "VEIS – Eiscafé und Snackbar", a vegan ice cream shop which is located in the KTV, one of Rostock's most trendy, hip, and scenic districts. Besides the fact that all delicious ice cream flavours, the soft whipped cream, the crunchy cones and even the colourful toppings are vegan, and thus also allergy friendly for all people who suffer from a lactose intolerance, most of the sweet, fruity and hearty flavours are also gluten free.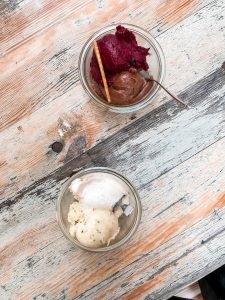 What I really like about this place is the fact that every customer is treated individually, friendly and with the same open-minded attitude. The staff is informed about all kinds of allergies and really tries to create a refreshing, mouth-watering and aesthetically pleasing ice cream cup that suits you and your individual diet the most. Another plus point is the rustic and vintage interior design of the ice cream shop. Whenever stepping by for a short break at "VEIS", it always feels like stepping into another world: the smell of the antique wood always reminds me of my grandparent's home, and the appearance of the colourful and mixed furniture pieces make me feel cosy and welcomed.
I personally keep going back to this cute little ice cream shop because it is so closely located to the Ulmencampus of the University of Rostock. This means that my study colleagues and I can swing by during our short seminar breaks or after an intense day of studying. We also tend to visit "VEIS" after our final exams to reward our taste buds with some delightful ice cream creations. If you ask me, after an exhausting exam, there is no better way to treat yourself than to bright red and fruity strawberry ice cream, chunky and crunchy hazelnut ice cream or herb and refreshing basil sorbet!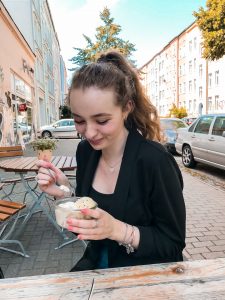 I hope that you enjoyed reading this short but appealing restaurant review and that you will decide for yourself whether "VEIS" may become a new favourite place for a quick ice cream break in Rostock. As usual, if you have any further recommendations for gluten free restaurants, snack bars or cafés in Rostock, please write them into the comment section under this post!