Hello food lovers and welcome back to another restaurant review in my gluten free guide series. Want to discover trending and very unique places in Rostock? Let me tell you something: this series is going to be something pleasant and mouth-watering for you to read because I am introducing you to Rostock's most trendy restaurants. So, grab your notebook, smartphone or whatever you are using to memorise good food and beverage hotspots, and let's get started!
In my first gluten free guide I talked about the "Bella Vista", an Italian restaurant located at the seaside of the Stadthafen. Whereas in my last gluten free guide, I talked about "Otto's Restaurant & Hafenbar", a floating restaurant known for its local and rustic cuisine. And in today's blogpost I will focus on the "Rost Dock", a temporary bar (open from 01. May until 30. September) constructed from old intermodal containers. Although it seems, at first glance, that the three places do not have very much in common, they are all located at the Stadthafen. So, if you plan to visit Rostock or try to find new food hotspots in this city, take a lovely stroll down the seaside path of the Stadthafen and channel your inner restaurant detective – go Sherlock!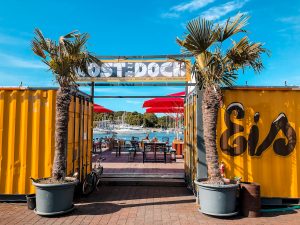 What I personally love about the "Rost Dock" is the overall vibe of the place. The rustic ambience of a bar constructed of shipping containers, the vintage statement pieces, the deckchairs and the outdoor games (like rope skipping and chess) create an urban, hip and unique atmosphere comparable to that of a Caribbean Reggae bar! The staff is super friendly and is always open for a lovely and funny conversation. Furthermore, they know much about a gluten free diet and other allergies. They help you pick the best drinks, and can create drink alternatives for you if you need to avoid certain products. When ordering your drinks, you will not have the feeling that you are one of thousands of customer as every customer is treated with the same open- minded and caring attitude.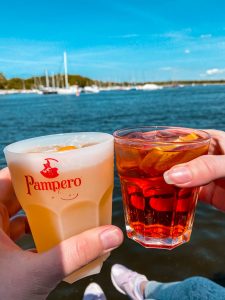 Although the "Rost Dock" is always worth a visit, you should definitely visit the bar during the evening for a "sundowner", a combination of an evening cocktail and a sunset watch. You can enjoy the colourful sunset from a front-row seat, taste the salty sea water on your lips and feel the warm sunshine on your face with the mild summer breeze in your hair. Is there a better way to end your day? I believe not!
Throughout the day, Jazz, Reggae and Oldie music is played to enhance the Caribbean holiday feeling. In the evening, these soft and rhythmic beats increase the relaxed atmosphere and brighten up your mood even further. On some days, you can even attend dancing courses. So, grab your partner and hit the dance floor!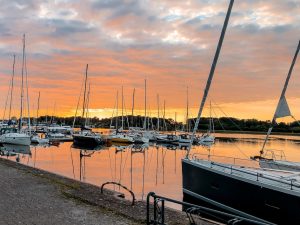 I hope that you enjoyed reading this little restaurant review and that you will decide for yourself whether "Rost Dock" may become a new favourite place for an evening or after-work cocktail in Rostock. If you have any further recommendations for gluten free restaurants, snack bars or cafés in Rostock please write them into the comment section under this post!
PS: Want to find local, unique and mouth-watering places in Rostock? Suffer from allergies or life a plant-based diet but still want to enjoy some deliciously tasting beverages and snacks? Appreciate a rustic and homely feeling in small local businesses that invest in eco-friendly strategies? Then stay tuned for the next gluten free guide! Psssst (*hint incoming*): I have picked a very extraordinary ice cream shop!