Welcome back to another restaurant review in my gluten free guide series, where I introduce you to Rostock's trending restaurants. I love food and I love to support the upcoming local businesses of this wonderful city. What a perfect match – so let's get started!
In my last gluten free guide, I talked about the "Bella Vista", an outstanding restaurant known for its traditional but also modern and exorbitantly delicious Italian cuisine. However, in today's blogpost I will step back from the Mediterranean goods and turn your attention to a very unique and maritime restaurant, creating delicious dishes which represent the local and rustic cuisine of Rostock in a modern manner. If you have never heard of or never been to "Otto's Restaurant & Hafen Bar", you should definitely book a table and enjoy some bits and bops from the mouthwatering menu. I promise you, it will taste like star-standard cuisine!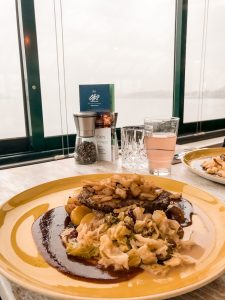 I personally noticed that I keep coming back over and over again, not only because this restaurant offers such a unique experience for a relatively modest price point (6€ up to 20€), but also because the staff is very conscious and open-minded when it comes to creating allergy-friendly dishes.
Furthermore, "Otto's Restaurant & Hafen Bar" is the only floating restaurant in Rostock, as you can dine directly ON the water and have an extraordinary panoramic view of the Stadthafen. "Otto's Restaurant & Hafen Bar" is open throughout the whole year, meaning that you can enjoy a delicious dish, Sunday brunch or evening cocktail whenever you like. I highly recommend you visit the restaurant during the Hanse Sail, a very famous sailing event that is like an international parade, where all types of ships – from gigantic sailing boats, to futuristic motor boats, to traditional wooden boats – come to Rostock's Stadthafen. Your dinner will feel like a private concert of your favorite musician or a front-row position at the formula one. An incredible experience!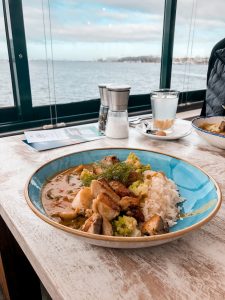 My top tip if you want to safe money: Visit from 11:30 am – 3 pm and order something from the lunch menu. What I like about this concept is that you can get high quality and amazing tasting dishes like curry, grilled fish or dessert for 10€ – 12€. Additionally, the meals change every week, allergy friendly dishes are included, and the chefs are very creative in turning almost any dish into a gluten free one! You also need to try the "chef's dessert" which changes every day. One day, I was lucky enough to try the famous chocolate and strawberry mousse. For me personally, it was the best dessert that I have tasted in my entire life. The mousse melts in your mouth like soft butter and the velvety texture is incredible, as it feels like a little cloud that softly unfolds its flavor on your tongue.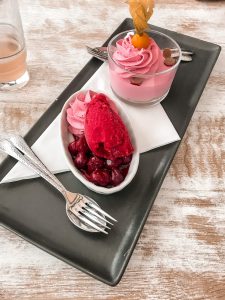 I hope that you loved reading this little restaurant review and that you will decide for yourself whether "Otto's Restaurant und Hafen Bar" may be your new favorite dining place in Rostock. If you have any further recommendations for gluten free restaurants, snack bars or cafés in Rostock please write them into the comment section under this post!
PS: Like to find new, trending and very unique places in Rostock? Love to enjoy your evening cocktail in an urban, rustic and relaxed atmosphere? Appreciate local businesses that invest in upcycling and eco-friendly strategies? Then stay tuned for the next gluten free guide!