In my last blogpost, I wrote about my favorite supermarket for gluten free products in Rostock. Because I have been a celiac since 2014 and strictly need to avoid products that contain gluten, such as crusty bread, juicy pasta, and crisp pizza, I know exactly how hard it can be to find cute restaurants and cafés that offer a decent number of gluten free products. Thus, I thought it might be very helpful to create a gluten free Restaurant Guide for Rostock.
Let me tell you a short but sad story of my life: Going out for dinner, grabbing a quick lunch or enjoying a delicious Sunday brunch with my friends is always a big struggle for me. Sadly, most Restaurants in Rostock do not offer a diverse range of gluten free dishes, if they offer them at all… Here is just one example: when I am offered a ten-page menu at a restaurant, I can often eat only one or two dishes from the whole menu. And, most of the time, those one or two dishes are plain, green, and boring salads. But what about pizza, pasta, dessert or bread? Well, most restaurants answer in this case: As a celiac you have to forget about that!
But this is not actually the truth as there are lots and lots of gluten free products on the market. And luckily, not all restaurants act in this old manner of thinking. One glorious example of a modern, gluten-free restaurant in Rostock is Bella Vista. Because the restaurant is directly located at the waterfront of the Stadthafen, you can enjoy a panoramic view from the beautiful, wind-sheltered terrace whilst eating your flavorful pasta, juicy risotto or creamy tiramisù. Basically, all things that taste like a combination of all your favorite meals!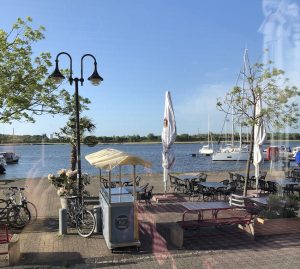 When I booked a table for a romantic dinner night with my boyfriend, I kindly asked Frank Scherzo, the restaurant owner, for gluten free dishes and alternatives on the menu. And let me tell you, I was overwhelmed by his kindness and his knowledge about my "specific problem".
Pluspoint one: Scherzo instantly handed me the allergy card for all dishes and drinks that he was offering in his restaurant.
Pluspoint two: He gave me an overview of all the gluten free dishes on the menu and created alternatives to turn originally non gluten free dishes into gluten free ones. I couldn't believe that I was allowed to eat so many things from the menu, from tasty tiny appetizers, to tenderly grilled beef, to deliciously sweet desserts.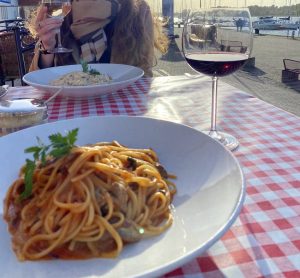 Pluspoint three: He said he would be terribly sorry, if I could not try his fantastic pasta dishes. Thus, he kindly offered to buy gluten free pasta for me! From this moment on, I knew that this dinner would be amazing and feel like a short trip to gluten free heaven, Disneyland and the Maldives together!
My first experience with the Bella Vista was fabulous, and so were the other dozen times after my first visit. Every time, I am overwhelmed by the kindness, the Italian way of life, and the sensitivity towards people who suffer from allergies. If you have the time, you should definitely book a table and decide for yourself!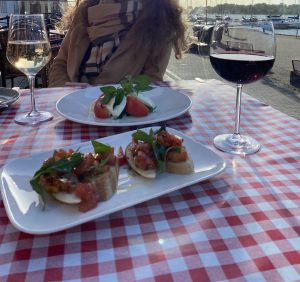 Just to make this clear: Even if you are not a celiac, the restaurants addressed in this guide are amazing places to enjoy a decent plate of well-made food! I really hope that you loved reading this little restaurant review. If you have any further recommendations for gluten free restaurants, snack bars or cafés in Rostock please write them into the comment section under this post!
PS: Do you want to know where to dine fine, in an absolutely maritime and very unique location…? Then stay tuned for the next gluten free guide!