Wanna try the best German dishes but not really a fan of 86 different kinds of sausage? Fed up with sloppy take away sandwiches for six sensationally unreasonable euros each? Let me introduce you to our 'Frühstücks' culture. As I spent a lot of time in foreign countries such as France, England or Scandinavia, I think that breakfast is indeed the only German meal which can compete with other nations. You know, we neither invented pizza nor Bordeaux wine; we are neither the founders of chicken masala nor pho. The only German food I really missed during my times abroad was a nice 'Frühstücksbrötchen' (breakfast roll). A German Sunday breakfast can take a few hours, but it is the nicest way to sit down with friends and have a good time.
I'm going to give you my tips for the best breakfasts and brunches in town (of course approved by myself) including information about variety, prices and location.
This bar and restaurant is my all time favorite for lazy Sundays. You pay €22.90 to get a huge variety of warm and cold dishes such as different kinds of rolls, salads, pancakes, pasta bakes, cheeses and fruits. I especially highly recommend their yellow chicken curry. The buffet also includes very tasty coffee (unfortunately neither cappuccino nor espresso), apple and multivitamin juice and sparkling wine all you can drink (good place for getting tipsy in the morning), so from my point of view the relatively high price seems fair.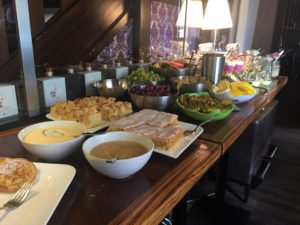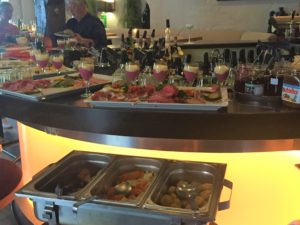 As the whole bar is located in an old wood beam building, it is quite fancy and cosy. If the weather is nice, you might like to sit on their terrace to enjoy your coffee in the sun. I've never seen such well organized and lovely staff. They will help you with any of your wishes even on busy days.
Brunch takes place on Sundays only, starting at ten. Make sure that you've reserved a table in advance.
The good thing about Alex is that you can have a nice brunch there throughout the week though the buffet is a bit more diverse on Sundays. As the restaurant is quite big, you usually don't need to fear not getting a table but, I would recommend ringing them in advance anyway, especially for Sundays.
This restaurant impresses particularly with loads of different hearty food, for example their scrambled eggs with crispy bacon, dried olives or caprese salad. If you have a sweet tooth you will find freshly baked croissants, fruit salads and a variety of desserts as well. As the restaurant is located directly at the market place, it's nice to eat outside and watch the surrounding hustle and bustle. The only disadvantage is that drinks are not included in the almost €14.00 (Monday to Friday €9.60). But their homemade lemonades are worth their extra costs.
Café Central
Not too hungry and loved multiple choice tests the most at school? Welcome to Café Central. In my opinion, this location is the best place for breakfast on sunny weekdays when you don't want to spend hours and hours in a place but are in the mood for a relaxed chat with a friend in an authentic area. The terrace is directly in the heart of the KTV, so you will experience the 'real' Rostock lifestyle next to locals. The special thing about the café's breakfast is that you'll get only the things you really want to eat as you have to tick everything on the menu you would like. I myself prefer to have a multigrain roll with tomatoes, mozzarella, and pesto or pancakes with chocolate cream and a large cup of coffee. Not full yet? No problem, just ask for the menu again and check for some more muesli and cheese. It's hard to give valid information about prices here as it depends on how much you order, but I'm always quite hungry and have never spent more than €18.00 there.
Trying these three breakfast options, I'm sure you'll never buy a supermarket sandwich again. It's your day; take a few minutes for yourself (and minutes and minutes and minutes more) and for your coffee.