Nowadays, more and more people are looking for ways to get back to more natural solutions, instead of buying chemical products with questionable ingredients. A new trend has developed: getting back to basics. Particular in the field of skincare, many people want to know about the origin of ingredients and be assured that the products are compatible with their skin. BioBalsam is a place to explore if you're interested in home-made and natural products. The small, well arranged shop can be found in the old town of Rostock, in Große Wasserstraße 6. The opening hours are Monday to Friday from 10 a.m to 6 p.m and Saturdays from 10 a.m to 1 p.m.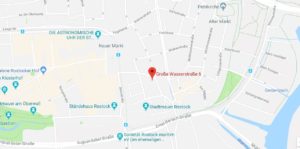 Aside from the products you might also be able to buy in another bio supermarket, Bio Balsam offers their own created ones as well. Natural soaps and creme deodorant, bath supplies and bodybutter as well as lip care can be bought there, the staff will give you advice on what suits you best and will help your needs. But there is more to BioBalsam than only the shop. You can chose between a variety of skin and body treatments. For examples, earcandles and aroma-balance-massages, anti-stress-massages and feet treatments. The skin treatments vary in detail, as they can be adjusted to your needs. You can talk to the assistants about what is important to you and they will come up with a suitable solution. Usually, you have the opportunity to chose the length of a session. Furthermore, you can also dye your eyebrows and lashes, if you want to. If you have dark coloured hair like me, you might not need/ want that. The price range varies from 52€ to 99€ for the treatments ( between 2.50€ and 15€ for the extras) , and the cost-performance ratio is very good. If you've already tried a lot of skin treatments, like I did, you probably know that you have to be willing to spend a lot of money on it. However, the prices became kind of standardized which is why they are round about the same independent on where you go. Considering the natural aspect of BioBalsam, it is not much more expensive than "normal" cosmeticians. Though, you should be aware that most of the natural products might be a little more expensive than the ones you buy in a standard drugstore. But in exchange for the extra money you can be sure to do something good for you and your skin, as you don't stress it with unnecessary substances.
I went there regularly since 2014, as I have quite problematic skin. I was always very happy about the treatments and the personal advice. The staff and the owner are extremely nice, welcoming and accommodating. You feel like your in good hands, which is just the start of the anti-stress- getaway. The atmosphere in the treatment area is also very calming and soothing. While you're lying on a warmed, cosy chair, gentle calming music plays in the background, and a candle lights up the dimmed light. Everything you will expect from a self-care day!
If you are also interested in the production of the cosmetics, you can visit the factory, which is directly beside the shop and have a look at how the products develop. Furthermore, BioBalsam offers workshops about skincare and make-up. If you don't find a suitable date, you can even book your "own" workshop, if you find at least 3 to 5 other ipersons interested in natural beauty and making the best of one's own skin. A good idea for a day out with the girls, a birthday gift or any other occasion.
BioBalsam, at first sight, might seem as just a small shop with some natural skincare to buy. But, we know better! You can book lovely and relaxing spa-treatments, as well as expand your knowledge on natural cosmetics. If you are concerned about nature and environment, you might give it a try.