Picture this: You have been shopping all morning in Rostock's Kröpi, the heart of the city. It is a hot day. The sun is beating down on you. You are delirious, longing for absolution. Where should you go for delicious, cool, life-saving ice-cream? In the city centre, there are several places to choose from. And we tested them (disclaimer: not intended to be exhaustive just phenomenal fun). Enjoy the read-through or – if you're in a hurry – just skip to the end of the page where we summarized the tasting's results for you.
If you want to experience the taste of some award-winning ice cream, Giovanni's Gelato De Luxe is the place for you. Giovanni's shops are spread across the world with several locations in Germany. In Rostock you can find one in the KTC, the Kröpeliner Tor Center. The types of ice cream range from Tahiti Lemon to Salty Liquorice. Giovanni's distinguishes between "classic", "trend" and "royale" sorts of ice cream. As the name suggests, the "classics" include flavours such as Strawberry, Vanilla, Stracciatella, and Lemon (as well as some of the company's own like Malaga and Eggnog). Tastes like Sweet Curry and Pineapple, Peanut Butter with Chilli Chocolate and Cucumber Mint make up the "trend list" for seasonal offers. Last but not least, Giovanni's advertises a few "royal" varieties that give you an unusual and mesmerizing taste experience: Black Vanilla with Rice Pudding, Sicilian Pistachio Verde or Mozart-Praline.
I decided to go for Russian Chocolate Cheesecake ice-cream myself. The taste delivered strongly on cherry as they are part of the original recipe for the cake. Although I only ordered one scoop,the waitress took several spoons to fill the wafer, which was very crunchy and surprisingly delicious in combination with the ice cream. I need to taste one of the more extraordinary ones next time. Giovanni's is always worth a visit; it is directly accessible from the Kröpeliner Straße (my way to Uni thankfully). The cosy atmosphere in the café also invites for a little stay, especially after a long shopping run in the KTC.
Another ice-cream shop, Janny's, is quite small and located next to the cinema Capitol. The shop is clean and bright, making a good first impression. Sadly, there is almost no place to sit down, so you're better off taking your ice-cream to go. On the plus side: you won't have to wait as long as in other parlors for your turn to order yummy ice-cream.
You also have the opportunity to choose quark or coffee in case ice-cream doesn't capture your mood. The palette consists of fruity flavours like mango sorbet and lemon as well as sweet ones like cookies, chocolate etc. Mostly basic flavours, nothing too fancy or original. I, for one, chose mango sorbet and woodruff, which are some of my favourite flavours. As far as I know, woodruff is much more common in Germany, so you should definitely check it out. Honestly, I didn't walk in with high expectations, so when I got my ice-cream in a cup and scooped the first spoonful into my mouth I was pleasantly surprised. The sorbet was fruity, tasting of real mango and felt smooth in my mouth. Absolutely delicious. After tasting and savouring the flavour on my tongue I plunged my bright blue plastic spoon into the equally bright green mass. That former high was followed by a groundbreaking low. It was such a disappointment. Instead of a fruity and slightly sour essence all I could taste was a poor chemical substitute that dares calling itself woodruff. The taste lingered in my mouth and refused to be washed away by any fluids. Overall, it was an ambivalent experience. So choose your snack wisely.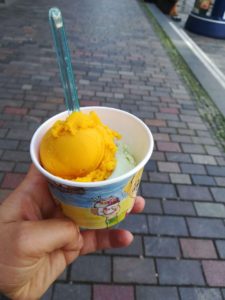 The "Eis Café Milano" features two locations in the Kröpi – and they have to because there is often a long queue in front of both. Because any day is a good day for ice-cream; in Germany we have the saying "Eis geht immer". In summer, there is a booth outside the "Rostocker Hof" with a nice view over the Pornobrunnen (porn fountain, so named (by everyone but the artists) for its depiction of naked people) and the University's main building. The main counter is located inside the shopping mall and is quite dark, so if you are fine with "only" 15 instead of 30 different kinds of delicious ice cream to choose from, stay outside and enjoy the sun.
"Milano" offers all the classics like chocolate, strawberry and vanilla (their combination known as Fürst Pückler in Germany) but also a range of more exotic creations like lemon-basil-mint (which is excellent, marvellous and very refreshing on a hot day).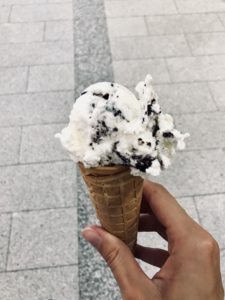 They also accept US dollars as payment but watch out – shops often use a higher exchange rate when calculating their prices in foreign currency.
| | | | |
| --- | --- | --- | --- |
| | Giovanni L. | Eiscafé Milano | Janny's Eis |
| price per scoop | € 1.10 / € 1.50 | € 1.20 | € 1.00 |
| offer | about 40 flavours | about 30 flavours | about 12 flavours |
| size | *** – **** | **** | *** |
| service | *** | ** | **** |
ranging from 1 to 4 stars