As a group of four students: two of us German and the other two exchange students from Korea, we decided to create a little guide to show the latter two a local insight to Rostock. Check out our other blogs here and here.
Q&A
1. I live in Erich Schlesinger strasse. Where is the nearest café from here?
In Erich-Schlesinger-Straße there is not really a Café, but if you walk to KTV or Doberaner Platz you have many opportunities to sit down in a café.
2. Are there any restaurants or cafés with a student discount?
In Jan&Mitch café (Breite Straße 12, 18055 Rostock) you can get a student discount, just show them your student ID.
It's not a real student discount, but if you bring you own cup to Starbucks (Kröpeliner Straße 54, 18055 Rostock), you get a € 0.3 discount on the beverages.
3. I like to have yogurt ice cream. Could you recommend any popular ice cream stores?
You can get yogurt ice cream in the Eiswerkstatt (Hopfenmarkt, Kröpeliner Straße 18, 18055 Rostock) or Fröhlich-Frozen Yogurt (Am Brink 2, 18055 Rostock).
4. I heard that Germany is famous for its currywurst. Where can I have a nice currywurst in Rostock?
Yeah, it's true Germany is famous for its currywurst, but I don't know a very good place in rostock — sorry maybe one of you guys knows a good place ‍
I only know that you'll find a mobile bike selling Bratwurst and Currywurst. Just look out for them in the city centre.

5. Could you recommend any cafés in Ulmenstrasse? I feel like drinking some coffee after class.
Near Ulmenstraße you can find a nice little cafe called "Törtchenlokal Waldenberger" (Waldemarstraße 52, 18057 Rostock). Most of the time you'll find the owner himself chatting with you, serving you coffee, and advising you about the best choice for a cake.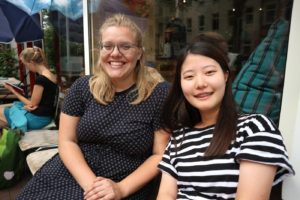 6. Are there any restaurants or cafés for vegetarians?
You can find a vegan restaurant in the Waldemarstraße as well opposite to the Waldenberger. It is called "Vegangster" and serves a variety of vegan burgers, most of the patties are soy based, but they also serve the "Polenta Burger" with a cornmeal patty, and the "Jackfruit burger", which obviously is based on Jackfruit. 😉
They also serve self-made fries and sweet potato fries with different self-made dips in diverse variations (Peanut, Sweet Chili, Aioli…) besides the normal ones (Mayo and Ketchup), the choices may vary from day to day.
7. Could you recommend any nice places to drink beer in the evening?
For an evening with cheap drinks (beer around €2.50) with a typical Rostock atmosphere, I can recommend "Pleitegeier". The Geier has a chilled atmosphere, football enthusiasts can watch the latest games, smokers can sit in the outside or smoking area, and if anyone is still bored he can play some table football. If you're living somewhere in the KTV, you'll probably meet one or two familiar faces in the Geier. Have fun and see for yourself! 🙂
Our special tips:
@miss different: "The best place to get drinks and food here in Rostock, in my opinion, is Stadtkind. It is not a big place, and you can sit inside and outside. The food I love most, burgers, is really good, delicious, and savory, and the drinks are also amazing. The address is Leonhardstraße 5a, 18057 Rostock."
@Gritt: "For a pub-like experience, a big outside area, and a mix of people, you should definitely visit the PWH. The PWH might be one of the places that reminds me most of my time in England, where you would go to a pub and see people of all ages from different positions. For a relaxed evening even with your family with one or two drinks the PWH is the right place. :)"
@Yeain: "A few weeks ago, Gritt and I had lunch at Humboldt. It is located on Ulmenstrasse. The hamburgers were really good. Also, there is a small coffee shop near Humbolt. The owner was very gentle and nice, and he even took some pictures for us :)"