You're probably an addict. You're on sugar. Don't worry – me too! Sugar fuels every cell in your brain, sugar is a reward to your brain, sugar is addictive. It is tough to break your habits, especially when it comes to the consumption of this sweet motherf*cker. You know that feeling when you get a little nervous and start wandering through the kitchen? You would open a cupboard, but there's nothing sweet in there. You knew that, but still… and then you would leave the house and return with a nice crunchy candy bar, with which you'd find a quiet corner, crouch down, and chow down the whole thing; then, with your face smeared with chocolate, you'd suddenly remember that your name is not Gollum . You'd realize what had just happened, a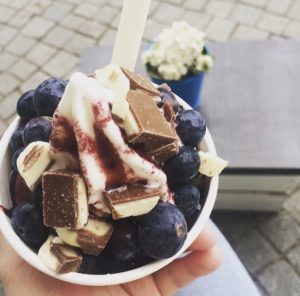 nd you'd instantly turn into the moderate Samwise Gamgee again.
So, what is responsible for this rapid recovery? Right: it's the sugar in the bar. It quickly turned into glucose in your bloodstream, and you're yourself again. When your level of blood sugar drops, you start feeling shaky, and you search for more sweets to regain that sugar "high". Reminds you of drugs, doesn't it? 😉
So, why am I telling you this? Like every good dealer in the hood, I want my addicts to get the very best there is. And that would be Fröhlich's Frozen Yogurt. It is located at the Brink right next to the Doberaner Platz. The colourful store will catch your eye, just walk in the direction where the people with their loaded ice cream cups are coming from.
Joy, ecstasy, satisfaction – these sensations will fill up your senses John-Denver-style, once you taste the first bite of your frozen yogurt. If you're not a big fan of yogurt, you can also try the frozen quark or the pudding. Then it gets tricky, 'cause there are almost 100 toppings you can choose from. But the good part is, that there is something for everybody. All kinds of chocolats, fruit, cookies, gummi bears, cereals, sauces, caramel, marshmellows, liquorice, sprinkles, nuts, and so on and so forth. They even have very special sauces that taste like Oreos, Giotto, and Raffaelo. My absolutely favorite is the salty caramel sauce. It's rather new in the assortment. I like to combine frozen yogurt, my favorite sauce and fresh fruit: strawberries, blueberries or kiwi, sometimes pineapple. All the other ingredients are fresh too. I should know, I worked there for two years.
A tiny minus is that you sometimes have to wait in line for a very long time, since others know how delicious it is, too. And it's also a bit pricey. But apart from that, it's really awesome.
Okay then, let's get high together. 🙂