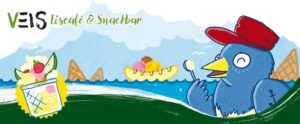 As the temperatures are finally rising after a truly extended winter, leaving the house doesn't make you feel like you're on an excursion to the North Pole any longer… or like you're about to lose a limb because of a third-degree frostbite… or like the adrenaline is kicking in because you managed to ride your bike without getting yourself killed, or at least broken to pieces any longer. Alright, enough of this for now, let's just say living in Northern Germany can be joyful – sometimes. At least adventurous.
Now for the joyful part: Once the temperatures are rising life starts to flourish again and your taste buds demand an adaption – and what could be better to satisfy this demand? Right – ice cream. Since Rostock has a lot of ice-cream parlors which all have, unfortunately, little vegan flavors, there is one all-vegan spot in the KTV ("Kröpeliner-Tor-Vorstadt" – a suburban area near the heart of the city), where else should it be? The KTV is known for its original people and flair in general, which of course includes restaurants as well. It's like the Kreuzberg of Berlin for Rostock. The ice-cream-parlor is called "VEIS" (which is a compound of "V" for "Vegan" and "Eis", the German term for ice cream) and sells homemade all vegan ice cream which is freshly produced on a daily basis.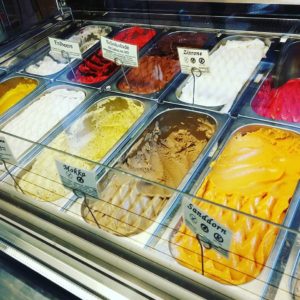 Besides the different varieties of the melting luck in a cone, they also have coffee, "milk" shakes, sometimes also sandwiches, muffins/cupcakes and cake. Mainly in winter (which you now know lasts at least until April in Northern Germany) they also offer warm waffles with "Sprühfix", a vegan version of whipped cream, just … more heavenly. It tastes like the inside of chocolate marshmallows. I'll let that sink in for a moment. Of course, you can get it also with ice cream and shakes. Last time I went there with a friend of mine I got the shake with soymilk, vanilla and almond ice cream, "Sprühfix" on top and – like how could this be even better? – colored sprinkles. Don't sprinkles make everything better? You feel me. My best friend and I constantly joke about going to "VEIS" just for the "Sprühfix" and getting a big serving of it without anything else. Don't get me wrong – their ice cream is fantastic as well. Not only for vegans but also for people who are intolerant to lactose it is a great alternative. I love their huge range, especially the varieties made with lupines drink (a vegan milk made out of sweet lupines) because it makes them incredibly creamy. Besides the whole taste-buds-part, you can also get comfortable inside or outside "VEIS" which has a very minimalistic – but thereby, in my humble opinion, additionally charming – wooden interior, mainly composed of euro palettes and cushions on them. Inside you feel a little like you're sitting in a forest or a park because the tables look like big flowerpots or planted trees. Last but not least, all their packaging – cups, ice cream spoons etc. – is eco-friendly and compostable.
So if you come around, being vegan or not, come to "VEIS" (Fritz-Reuter-Str. 52, 18057 Rostock) and convince yourself – strip off your sins and enter ice-cream-heaven. You can also check it out on Facebook – their five-star-rating speaks for itself.