Looking for a fun sport with cool people? Well, look no further: Ultimate Frisbee might be just the thing for you. Ultimate Frisbee, or just Ultimate as the cool kids like to call it (actually it's a copyright thing, but never mind), is a team sport played with – you might have guessed it – a disc.
While there are Women's and Open Divisions, for me, the best thing about Ultimate is the fact that it is a mixed sport, so no matter what gender you consider yourself you can join right in. The sport's also very versatile, for it can be played indoors and outdoors (either on a grass pitch or at the beach), depending on the season, and there are very few things that trump a game of Ultimate at Warnemünde's gorgeous beach with the sun smiling down at you and the sound of waves filling your ears (and a bottle of beer waiting for you on the sideline).
As it happens, the local bunch of Ultimate maniacs (the Endzonis), being of the same opinion, host one of Europe's biggest Ultimate beach tournaments every summer: the Sun of the Beach (SOTB).
The 2015 version can be found here.
The name is a word-play on the most important rule of all Ultimate games: the Spirit of the Game. Meaning we all trust each other to be honest and fair and not to break the rules on purpose. If a violation does occur, a short discussion is held – a friendly one, don't you go and call someone a "Son of a Beach" – and the conflict is resolved. Then the game continues.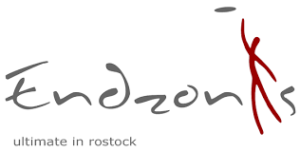 If you don't believe me that this system works, just come on by; the Endzonis would be happy to prove it to you. We are not Christmas decorations that only come out once a year for the SOTB but train every Monday night, at 8.45pm at Damerower Weg, and two training sessions are held on the grounds of the University's sports division for anyone interested in Ultimate. The current training dates can be found here. You might also spot flying discs on a sunny afternoon in Warnemünde or on Ulmencampus. If so, feel free to join us and catch Frisbee fever.
Here's hoping we see each other on the pitch!