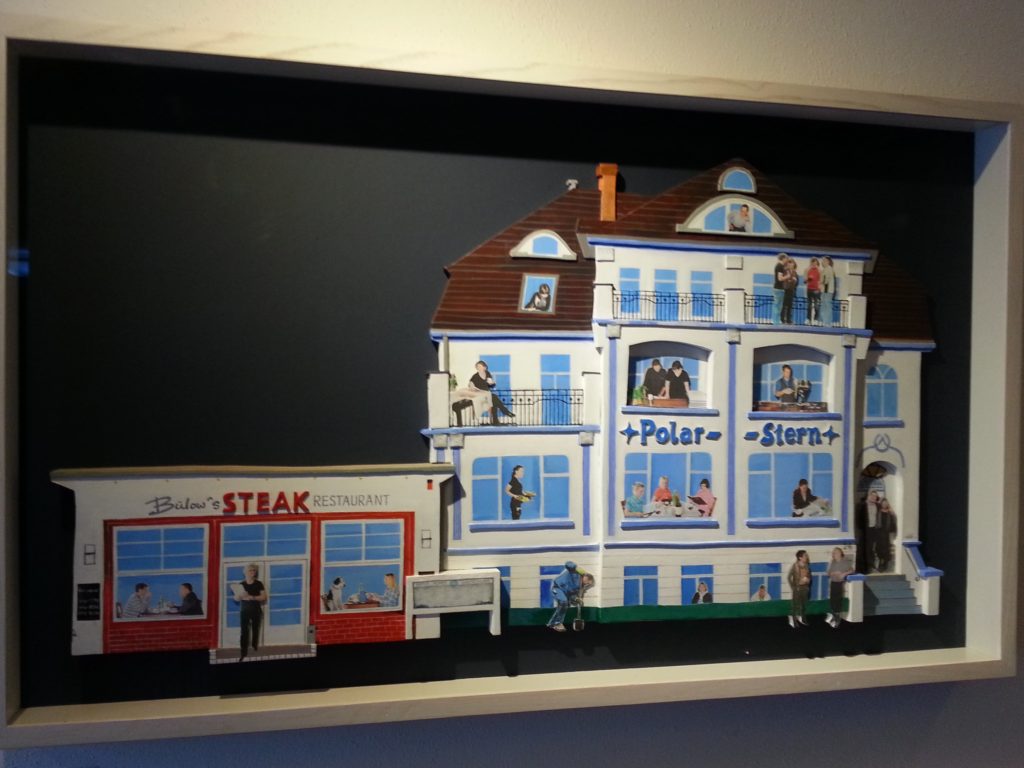 There is currently an abundance of (super) hero/heroines. I'd always like to gloat at them all with a saying that deserves far more coverage: "I can make whisky disappear – what's your superpower?"
When I first arrived in Rostock, I didn't find it particularly easy to find many places that offered a decent range of my very favourite alcoholic tipple, but not enough people seemed to know – or at least no one chose to tell me – that there was a place in Kuhungsborn (a town roughly 46kms to the northish-west of Rostock) that was and remains owned by a man who is the first founder of a whisky society in North-East Germany determined to spread the gospel of that heavenly spirit.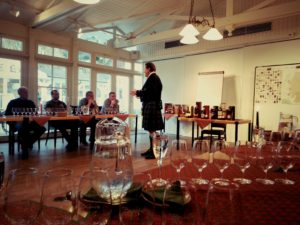 His name is Albrecht Kurbjuhn, and though many men who wear skirts have been prone to unfortunate judgmental attitudes, by wearing a kilt, their judgments tends to be revolved around why/how he could feel so connected to Scotland – or kitsch (I'll have to ask about webpages like these at a "fitting" time), by being not only a genuine member of the Clan MacLeod (not this one) but also its honorary President in Germany, he has a pretty damn good excuse in contrast to my wanderings in a skirt under the influence for the pure and sheer pleasure. What principally helped him become well integrated into a Scottish clan? His love of uisge — the water of life — better known as whisky or whiskey (he would argue that he loves numerous other things in Scotland aside from "just" its most renowned alcohol, and he even organises Scottish(ish) landscape walks in MV — though still with multiple bottles along with the other participants (I suspect he does this for the same reason that I call my trips to Scotland to drink whisky and visit distilleries "hiking tours", too 😉 ). The other typically Scottish event he holds is a "Robert Burns Night", which is also dripping in the finest liquor to be found on the planet in honour of the man who loved the stuff — and could write a bit, too — and not just about whisky:

Such a man with a liver that is anywhere close to intact who can speak relatively coherently  quickly became a living hero of mine, and such a very man happens to host one of the very best regular whisky tasting evenings you can hope to experience in Mecklenburg Vorpommern. He not only knows his stuff, but his hotel contains an awful lot of exceptional whiskies – I'd hazard to guess one of the finest and largest collections Mecklenburg can offer, certainly traditionally. I've been lucky enough to attend three of his events up to now, and I'm licking my lips at the thought of the next.
Paying around €70 may seem quite excessive to have a nice evening and enjoy food and drink; however, having experienced a high quality two-course meal and some exquisite whiskies that often cost over €100 per bottle as a special treat, it was thus far more easily swallowed for that "all-inclusive price" in contrast to buying the whiskies or paying the individual cumulative for what would be an "all-skint price" in my case. Besides, how much is the price of an irremovable smile and feeling of general contentedness in a life truly worth living? (€70 in my case, for sure – there is the option of the tasting event alone for €49, but as Germans so wonderfully say: "Wenn schon, denn schon" or "in for a penny/4900 cents, in for a pound/7000 cents" to mutilate an idiom along with that week's pocket-money).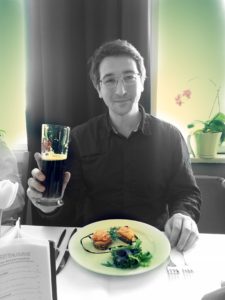 The evening started with a pleasant fish salad, which was then followed by a superbly satisfying plate of beef, sauerkraut, potatoes, and haggis (really nice, but still not quite haggis as I've generally known it – perhaps German sheep-innards have a different constitution or sheep-innards are interpreted differently in Germany).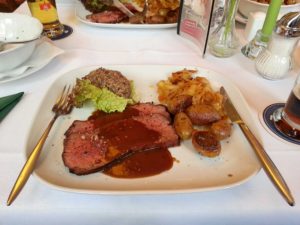 From that point, we moved into a very attractive event room, made all the more attractive by the 6 sexy whiskies sat winking at and teasing me from the front of the room. When your night starts with a 21 year-old Irish Redbreast whiskey (the extra "e" coming from the Irish variant on the spelling), it's hard to imagine the evening (or perhaps even life) getting much better, but "good" and "better" are tricky terms to define when your main memories are captured with a silly giggly expression of happiness on your smug face – I can only promise that things certainly didn't get any worse as we made our way through other beauties, including a red wine cask finished version of a Bunnahabhain and a compelling combination of grassy-smoky Laphroig finished in deeply complex-delivering scrumptious pedro ximinez sherry casks. This is me with with a special edition Ledaig sitting in bliss: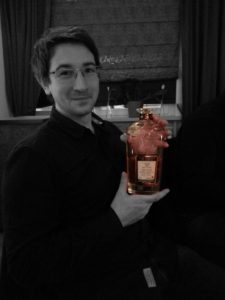 If you can overcome the slight bizarre nature of a non-Scot so extremely enthusiastically adopting/appropriating very particular parts of its culture (though if a Frenchman can so shamelessly adopt Scottishness – and a Scot so poorly and shamelessly adopt Spanishness, then all must surely be forgiven):
https://www.youtube.com/watch?v=2ggl8TkryO8
Even if you are less motivated by the lure of alcohol and good food as I quite clearly (perhaps tragically) am or can't make it for a visit for a full whisky tasting evening, it's still certainly worth visiting for the superbly stocked bar and cosy but refined restaurant – and getting there can even be well combined with a trip on the marvellous Molly.
I'll leave before I get too carried away … and too thirsty for something I shouldn't be thinking of drinking this early in the day.