While spending a few months abroad at the beginning of the year, I developed an eternal love for cafés. I started to enjoy sitting down for a while, having a coffee and some delicious pastry with a friend and chatting about the latest news.
When I came back to Germany I was totally sad because of the disappointing chain bakery culture we had in Rostock so far. Especially, in the more alternative and younger quarter of the city – the Kröpeliner Tor Vorstadt – you hardly find a really nice spot where you can sit down properly while having some self-made cake and a tasty latte macchiato.
This is the reason why I was full of joy when I discovered that there was a brand new café "Törtchenlokal Waldenberger" in the Waldemarstraße 52. It is exactly the kind of a café I like most. The interior of the café is a mix of different vintage furniture and the style of a country house. It kind of feels like visiting the cosy home of my grandma. Every sitting corner looks so inviting with all the fresh and bright flowers and from the beginning you feel welcome. When the weather is sunny and warm you can also sit on the terrace – beautifully green with all the decorating plants – in front of the café that is located next to a quiet street in the quarter. So, you can be sure that it is like an oasis in the big city where you can come down after a stressful day.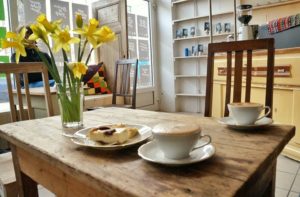 (Source)
But next to the cosiness factor I love the menu. All the coffee specialities are made professionally right in front of your eyes and taste as authentic and aromatic as a coffee from Italy. But the highlight of this café are all the pastries which look like a piece of art each. You can choose out of a vast selection of fruit, chocolate, biscuit or cream tartlets. No matter which fancy cake you take you can be sure that it is a symphony of delicious flavours.
So, if you want to feel the cosiness of visiting your grandma, the tastiness of perfect coffee and fancy cakes of artistic design you definitely should make a stop at the "Törtchenlokal Waldenberger".