Sometimes, when you are on vacation, there are days where you don´t have anything planned. You could hang out on the beach, take a little stroll through the city or do some sports to relax. I myself love to play basketball when I have some spare time and the guys are up for it, too.
In Rostock, there are loads of exposable potential courts to be found and checked out. Generally speaking, if you come across the areas with the prefabricated buildings – you may also call them ghettos –  they do all have one court at the minimum. These neighbourhoods are loaded with people and therefore are equipped with some places for public amusement.
If you search for a court a little closer to the city centre, you should try one of the following:
Courts attached to schools. These are usually quite clean and the basketball hoops still have their nets. Furthermore, they are quite huge with lots of space to chill, sit or actually play. The ground is covered with tartan. The "Innerstädtisches Gymnasium" owns such a sports ground, the "Werkstattschule" in the South City has a nice one as well. The only snag with that is that these places are only vacant after school hours or on the weekends.
Another great institution are playgrounds with attached sporting areas. You can find these all over town. A very playful one is the Gerberbruch playground. There are not only monkey bars and a turntable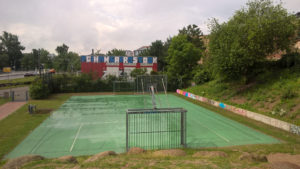 but also enormous swings between to tire "hills" which are not only fun to children. The court is checked regularly as schools sometimes co-use it and has a rubber ground which I find quite nice for your joints, at least in terms of suspension. The second one I recommend is to be found at the corner of Zochstraße and Haedgestraße, a quite calm area close to the harbour. It is the ideal place if you want to bring little children with you. The playground is clean and designed with a modern touch, whilst the court next to it is also equipped with tartan ground and more than one bucket.
All you have to bring really is a ball and your friends. And maybe some music to recreate a typical afternoon from back in the days, chilling, listening to your favourite vibes and shoot some hoobs.
Sounds perfect, if you ask me and today, the media tells us all the time that we should have more exercise, so – why don´t we combine it with a little fun?
Bye for now!
source of photograph: https://www.die-kleinen-rostocker.de/service-f%C3%BCr-eltern/spielpl%C3%A4tze-in-rostock/