When visiting the Neptun Shopping Centre for the first time, you may notice the unusual architecture, which is really different from what is normal for a Shopping Centre. The reason goes back to the history of the hall: The Neptun Shopping Centre opened in 2008 and is located in the former "Neptunwerft" ("Neptun-shipyard"), an old shipbuilding hall, which was renovated and modernized for the Centre.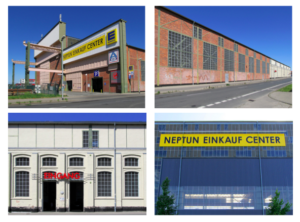 At the moment, the centre includes 12 shops, clearly less shops than other big centres in the region like the Kröpeliner Tor Centre in the city centre of Rostock; nevertheless the selection of shops is definitely sufficient. There is a huge Edeka (Edeka Center Schlickeisen) and Aldi (ALDI Nord), so you can most certainly get everything in the area of food there of all price ranges.
I really love the Edeka in the Neptun Centre because it guarantees freshness, competence and diversity. Its culinary range is huge and just awesome. Aldi also has good products, and it's the go-to choice for cheap standard-products whereas Edeka is more specialist and expensive. The remaining shops are smaller stores and services, for example the chemist's shop "Rossmann", a pharmacy called "Werft Apotheke", a tailor, a doner kebab and Asian food stall, a travel agency and the bakery "Bäcker Junge". What I personally really miss is one or more fashion stores in the centre.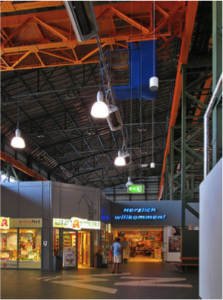 But I really have to positively mention the car park, which is covered, so you can go shopping in every weather situation without getting wet or getting too much sun. You are allowed to park there with a parking disc for 90 minutes.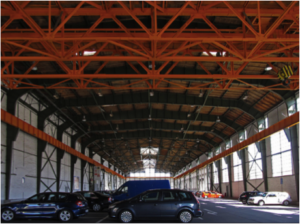 The Centre is open daily from 9am to 8pm (only closed on Sundays) and can easily be reached by car, bike, foot or tram.
The location of the Centre is special and really nice: It's located only a few metres away from the waterside of the Warnow harbour. In summer I really like buying a crispy salad from Edeka, going down to the waterside, sitting at the shore and enjoying my lunch in the sun. If you decide to have a barbecue with your friends at the harbour you can quickly buy some delicious food to be grilled from the centre. And if you have just had a long walk along the Warnow, you will find an assortment of refreshments in the Neptun Centre.