Are you looking for an exciting trip in MV – no matter whether it's a sunny or rainy day? Then I have the perfect destination!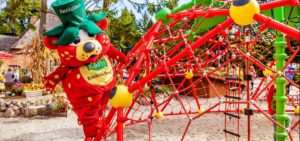 Karls Erlebnis-Dorf has diverse offers for rummaging around, astonishing yourself, buying stuff and enjoying a unique day. It's THE popular destination in MV for the whole family. The rural amusement park in Rövershagen, located directly at the B 105, offers numerous attractions for young and old visitors.
There are indoor and outdoor playgrounds for little ones, funny slides, a flying fox, a pony farm and animal exhibition, a creative-workshop, an indoor-climbing wall, a candy, soap, chocolate and jam factory and lots and lots more! A terrific family getaway is guaranteed at every weather situation!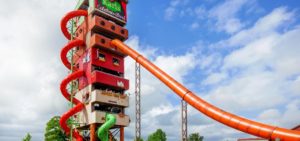 When I went to Karls with the kids I babysit on a rainy autumn day, they really loved the "Käpt'n Karls Tobeland", a 600m2 huge indoor playground with slides, climbing frames, a motley ball pit and lots more. The kids really enjoyed discovering and playing at this unusual playground, and it was quite hard to get them into the car again because they didn't want to leave their newfound kiddy heaven.

Another highlight attracts the visitors: the first major indoor-climbing wall in Mecklenburg-Vorpommern. Here young and old can climb 14 different parcours on two plateaus and test their skills. Attention: this is nothing for people with fear of heights!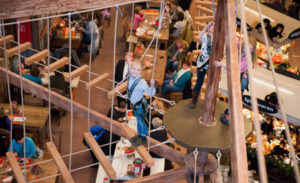 The Karls "Dorf-Mini-Golf" also offers fun for the whole family – just borrow some clubs and go!
If you like to be creative and want to allow your ideas full bent the creative-workshop might be the right place for you. Whether dipping candles, doing some painting on pottery, or melting glass – here you can give proof of your creative technical talents.
After all the fantastic experiences you will probably be as hungry as a horse. In this case, Karls has lots of dainties all over the shop! The numerous restaurants and manufactories offer a feast for your palate. You can get home-made soups, hearty sandwiches, normal bratwurst or even strawberry-sausages, mixed salads, crispy chips, fresh home-baked cakes, delicious coffee from Karl's own coffee roasting house, pancakes with diverse toppings and so on. The range is like a never-ending love story, and I'm pretty sure that you will leave Karls with a stomach that's filled to capacity.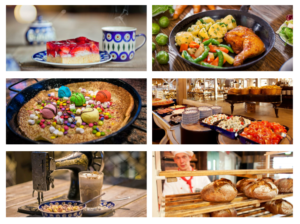 In addition to food, you can buy domestic products and unusual gifts. The range goes from vitamin-packed sea buckthorn products to spelt-pillows, self-made jams, speciality meats, maritime accessories, home-made sweets, and lovely living and gift-ideas.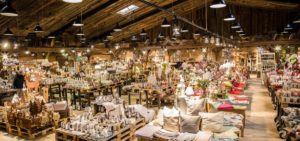 The best thing of all is this: the entry for Karls Erlebnis-Dorf is free! You only need to pay a small contribution for some attractions. There are also plenty of complimentary parking spots. Karls is open all-season from 8am to 7pm daily. The last entry for the outdoor attractions is at 6.30pm.
I could write a whole book about Karls and even then I wouldn't have mentioned everything because there is so incredibly much to discover! You just have to gain your own experience and spend an eventful, funny and unforgettable day or afternoon at Karls Erlebnis-Dorf. I promise you won't be disappointed!