With the weather getting better, lots of people go to the beaches in Warnemünde to make the most out of the warm days at the sea.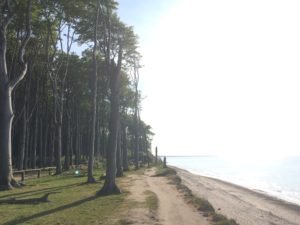 But if you're not a big fan of overcrowded places (like me) and really just want to do some relaxing sun bathing without laying towel to towel, Nienhagen is a great place to go!
Besides having a beautiful and clean beach, there is also some nature really close by. Right behind the beach on top of the steep coast is the "ghost forest". The name might be a bit misleading since there are no real ghosts there (or so we hope) 😉
In fact, the forest got its name from the awry trees who were shaped by the strong stormy wind along the coast which makes a unique and beautiful scenery. And you can also take a refreshing walk in the shadow of the trees when the sun gets much too burning hot at noon.
You can go there either by taking the bus from the S-Bahn station "Warnemünde Werft" or by car. You can even bike there!
But be aware that there are two different places called Nienhagen around Rostock – make sure you go to the right one which is at the coast in the west of Warnemünde (I went to the wrong one first..so I have some experience with that..). So, check the map first before getting going. Or just take the bus from Warnemünde Werft and you'll get there without any detour 🙂