All ice-princesses and ice-princes pay attention! If you want to do some sports in winter in Rostock, you can proceed on seductively slippery terrain.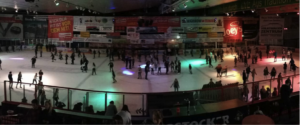 The biggest ice-stadium in Mecklenburg-Vorpommern welcomes you to go ice-skating every year from September to April. Every Wednesday, Saturday and Sunday, young and old meet at pleasant temperatures and cool DJ-music to turn their rounds on the huge 1,800m2 ice-rink. In M-V's school holidays, the ice-stadium is open daily.
Next to the sportsman of short track and figure-skating, the 'Kufencracks' (roughly translated as PIRANHAS) are home in Rostock's ice-stadium. If you like watching ice-hockey, you can go to one of the PIRANHA's home ice-hockey games.
The ice-rink also offers school-classes the opportunity to spend an eventful morning (from Tuesday to Friday outside the holiday-season) there. The entry-price per pupil is €2, and if you want to rent skates you have to pay €3. Teachers and companions get free entry.
I personally really like the midnight-skating-parties, which are supported by the radio transmitter 'Ostseewelle HIT-Radio Mecklenburg-Vorpommern'. They start at 7pm and end at 2pm. It's much fun because the music motivates you to even start dancing on the ice if you're not one of those holding onto their balance like Gollum to a ring. You can meet with your friends and it's something special and different having a party on the ice! You can get further information about it on the website http://eishalle-rostock.de.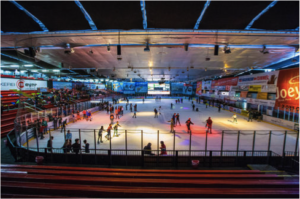 There are different prices for ice-skating (see below) and if you don't own skates, you can rent some out.
Here's a list of the prices:
10-times-card – €40
entry-card for kids (up to 12 years) – €5
escort (without skating) – €5
entry-ticket for adults – €8
midnight-skating per person – €5
rental skates (size 25-49) – €3
If you rent skates, you need to leave a deposit, e.g. your driver's licence. The entry-tickets are valid for the day of the visit without a limited time (but of course within the opening hours). The 10-times-card can be used 10 times on different days of the season or for up to 10 persons at the same time, but they are not valid for midnight-skating.
So, what are you waiting for? Instead of spending a cold winter day on the couch, meet up with friends and spend a fantastic, funny and active day on the ice!