Your stay in Rostock involves a Thursday? You want have a great night as cheap as possible?
Well…if you don't know someone to go to and cook& drink at his or her place, you might want to find the perfect pub-route. And here is my proposal for a cheap Thursday night:
1st Stop – barfuss
You start at Barfuss Bar, which is a small bar directly in the center of our lively student quarter. Barfuss means barefoot, and it really takes your shoes off, so better choose your good socks for Thursday. 😉
It' small, mostly crowded with students and tourists, which makes the atmosphere lively and exhilarating and is therefor a good place to get in the mood.
The big lie-down-areas(–>shoes off here) promise a very communicative situation, so the chance is good to meet the first people there to go on tour with if you want.That works out pretty well  and we still keep meeting new people nearly every time we go out for drinks or party here.
For more details information consider also my Blog "Best Cocktails are Drunk Barefoot".
In the Daily Happy Hour you save here €2 per Cocktail- the selection is huge.  This would be the first stop, starting here at  19:00.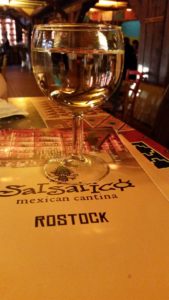 2nd Stop – Salsarico
IF YOU HAVE GIRLS WITH YOU:
Leaving Barfuss Bar (21:00 the latest, when Happy Hour Ends), you take the tram to "Lange Straße". After a little walk towards the waterside you find here this rustic Mexican restaurant, which has, besides hot, tasty and delicious looking Mexican food for fair prices, special offers every day.
On Thursday it is Wine all you can drink for Ladies. If you have Ladies with you it might be worth using that. The have to pay a minimum fee of €2,50, an then they can drink as much as they like until 23:00. Or you leave at 22:00, to be I time for the last Happy Hour at stop 3, which is within walking distance.
IF YOU HAVE NO GIRLS WITH YOU:
Leave it out and come back on a Sunday to meet the Cocktail night, where all cocktails cost €3,99. Or You come to Salsarico for one of the other special offers to get your stomach stuffed with tasty cucina Mexicana. To keep the thursday cheap: skip Salsarico and go to Stop 3.
3rd Stop-Burwitz Legendär
If you leave Salsarico at 22:00 you just walk back to "Lange Straße" and take the tram again for 1 stop to "Neuer Markt" or walk the short distance.
If you skip Salsarico, then you just stay in the tram for one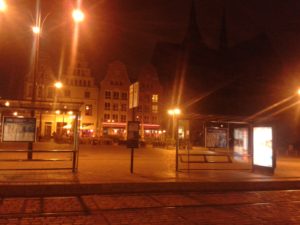 more stop and get out at "Neuer Markt".
Here at "Neuer Markt" we find 2 major restaurants in the historic part of tow. Alex and Burwitz Legendär. Both offer very similar prices as well as food an drink, but Burwitz is slightly  more rustic in its atmosphere , whereas Alex is more modern concerning menu and furniture, if you ask me. I somehow prefer Burwitz for the lovingly looking drinks.
Until 23:00 you can now save €2 per cocktail at Burwitz Legendär and enjoy the holiday like feeling on the old market place with a view on the city hall and the old buildings, sitting right next to the illuminated "Marienkirche".
So besides the lovingly, creatively designed drinks the cheap Thursday at Burwitz includes a real cultural city trip part.
4th Stop – LT-Club
In the mood for dancing after all these cheap drinks?
Take a tram to "Doberaner Platz" from "Neuer Markt" and switch there into one that goes to "Platz der Jugend". Walking Distance to Doberaner PLatz would only be about 10-15 minutes, if you prefer that. At Platz der Jugend you will see everybody  getting out, so you know it's the right place: It's LT Club.
LT Club Rostock, which is one of the most popular clubs in Rostock especially amoung students,has another special offer for you on Thursdays: Campus Club
Get the special-offer-flyer here in for free until 0:30 and enjoy your completely free drink, which might form the highlight of your cheap Thursday. You can choose any drink (werth €4) you want from apple juce, longdrinks oder beer to Mexicaner, which is a famous spicy shot, based on tomato juce. I'm not sure if it is only famous here, at least, I've never heard of it or tried it before. It's…special. If you like bloody mary, it might be your kind of thing.
After your free drink Cuba Libre costs you only 3€ an beer is on offer for €2. This would be a perfectly cheap ending for your cheap Thursday and maybe also the beginning of a not so cheap Friday ( for example if you need to take the taxi home after all these drinks 😉
They are by the way standing outside waiting for you.
If you want to know if LT is the perfect location for you, (which is really propable because it's really spacious, has 2-4 different floors and serves diverse tastes), consider the following bog: Major fun at the LT-Club or similar, or just try it, after all, it's for free 😉
Enjoy and don't forget:
Buy drinks & save money!