Do you like walking and strolling around? I admit I do sometimes have difficulties motivating myself… I really don´t enjoy riding a bike and similarly, running or walking around outside can be a burden rather than a relaxing activity. It happens from time to time, though, that I am up for it. It happens to be that fresh air helps an occupied brain to gain new energy – with the support of a big Latte in my case. Let me give you some input where to find the best place for a little stroll.
Rostock owns the priceless advantage of location. You can choose between a walk in the country, in the woods or on the beach. Since the weather is currently that fantastic and untypically warm, every possibility of the three is a good idea.
If you prefer a lot of green you absolutely have to explore the Barnstorfer Wald. It is q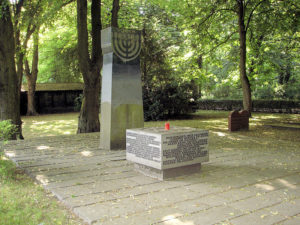 uite big, contorted and the zoo is located there. The zoo is quite famous and worth a nice afternoon trip. The forest around makes you forget that you are in a city because it´s so calming and quiet (except you are lucky enough to meet  30
three year olds on their daily kindergarden trip or the frisbee players while training). Another park right in the centre is the Lindenpark.  In earlier times, the Jewish cemetery was there. Today only some tombstones remind you of the place's history-charged past. It is absolutely worth a look and the nicely arranged paths invite you to make more than one round. It is, of course, very attractive to dogs and their owners, too, so watch your step. 😉
Another inspirational place to walk through is the old seamen graveyard in Warnemünde. It is located behind the AJA resort and very small but the stories the tombstones tell are worth a little peek. (fascinating how parks used to be graveyards all along) Once you´re in Warnemünde, check out the "Kurhaus-Park", very relaxing and the air always has a hint of sea salt in it.
Which leads me to the second possibility – the beach. As I grew up on the island of Usedom, I can´t imagine a life without the wind blowing through my hair and the salty tasting air. (Yes, I just rhymed. Wow.) I don´t think I must explain further why you should explore the coast line around here. Everybody has a favourite spot there. The only thing you have to do is decide. 😊
One last hint of mine is the countryside of Rostock and Mecklenburg-Western Pomerania in general. The fields are wide and not too hilly which makes them perfect for some afternoon sauntering. Try out the area around Kessin or Sildemow. Pure country beauty.
I hope there is something in it for you and maybe you´ll find even more great places to be outside.
See you soon!