–Rostock's hippest and trendiest neighborhood- 
by Maren Schröder
Love strolling and browsing in small stores?
Love lingering in a nice Café and just enjoying life?
Then do not look any further because I have the perfect h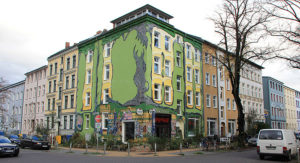 otspot in Rostock for you: the "Kröpeliner-Tor-Vorstadt" in short, the KTV. Here you can find just about anything, from creative DIY-shops to individual second-hand-stores and culinary delights from all over the globe.
You will find the KTV with all its glorious pups, stores and shops between the "Hansaviertel" and the city Centre. Of course, you could also ask any resident for directions as the KTV is somewhat famous around here. In earlier times, the KTV was known as a working-class district, but after the fall of the Berlin wall, they started immense sanitations in 1990. Today the city district is best known for its young and fresh ambience, although you can still admire historical buildings.
More than 19 thousand people live here, mostly students and young families (the average age is under 40 years). Furthermore, you do not have to pay any attention to your watch since there is always something great going on during the day or at night.
Day time
Many Cafes invite you for an early breakfast or a comfy brunch. If you feel like enjoying a buffet, look into "Café Käthe" or "Café Central". Of course, they also offer the normal à la carte breakfast if you feel like it is too early to be adventurous. With a full belly, it is now time to stroll, browse and shop. You just cannot pass all the adorable little shops without stepping in and getting lost in the atmosphere. You can buy anything in the KTV, including home accessories and handmade jewelry and clothes. If I tried to write down every great shop there, you would still be reading this blog on your next holiday. Need a break? Enjoy a fresh roasted coffee at the "Ronja" or delicious handmade ice cream at the "Eisscholle".
If you favor art over shopping then the "Artquarium" is the place to go. Here local artist present their latest pieces and sometimes there are lovely concerts. Music-lovers will get what they crave when visiting "Das Musik-Wohnzimmer". There you can listen to music while sipping a, hot beverage and eating a delicious piece of cake. Bookworms need to check out the second-hand bookshop "Herr Koreander" where they can hunt for their next reading treasure.
Need more culture? No problem! The KTV has had its own brewery since 1878. In "Doberaner Straße", you can find the "Hanseatische Brauerei Rostock", which offers tours and tastings. You could also visit one of the several local churches including the "Heiligen-Geist-Kirche" or take a long pleasant walk in the "Lindenpark". And don't forget to have a look at the name sake district emblem since 1270, the "Kröpeliner Tor" itself.
It's Getting Late
In the evening, the KTV thrives,. Not only on the weekends but also during weekdays you can easily find your entertainment of choice.
There are many great pubs here including "Pleitgeier" or "Pirat", the latter offers what the name promises. A rustic pup experience in pirate style including the infamous beverage "Enterhaken". No bar or pub is like the other. You can enjoy cocktails at "Barfuss", drink beer and watch the latest game of football at the "Gelbe Katze" or just relax at the "Warmbad". Every establishment shines with its own individual concept and atmosphere. In case you are not the type to go into bars or pubs or are sick of them, don't worry. There really is something to do for everyone. You could watch a film at the cinema, visit the theatre or listen to a concert. Hotspots are the "li.wu.", the "Volkstheater Rostock" and the "Peter Weiss Haus".
And did I mention the possibility to eat yourself around the world? Chinese, Indian, Sushi, Turkish, Thai, Mexican, Vegan…you name it, the KTV has it.
If you still not believe me that the KTV is the place to go in Rostock, convince yourself of its awesomeness by visiting. I assure you, it will offer new experiences for everyone all year around.