As some of you may have guessed by the headline already, this blog is gonna be about a zoo. But it's not just about any zoo. It's about Rostock's zoo which is very special to me because it's part of my childhood and therefore part of me. But enough of that soppiness! Let's cut to the chase.
First of all, the zoo is tremendous. You can walk around in it all day long without getting bored or having to see the same area twice. I can recommend it very much for family trips because there are lots and lots of playthings for children, next to all the animals 😉. There are places for picnicking all over the zoo; so you can bring your own food and drinks and stay all day, if you like. If you're lucky, the peacock is gonna pay you visit during your picnic as it's walking freely all over th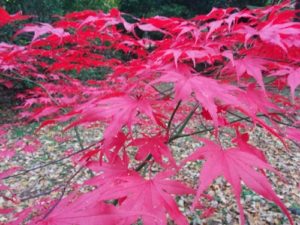 e zoo area.
Second, the area is delightful. Lots and lots of trees and parks and beautiful flowerbeds give the zoo its natural and unique charm. That's definitely worth seeing.
Third, the animals are interesting and fun to look at. They zoo has a selection of about 380 different animal species. Some of my favorites are the zebras, the lions, the jaguars and the huge turtles in the Darwineum. But my two most favorite species are the pygmy hippopotamus and the great apes. The mini-hippos Nimba and Onong usually chill out all day long so you don't often get to see much action from them. But I think they are just so damn cute that you have to see them anyway. Once it's warm enough for them to go outside, they tend to get more active and play around in their outside area which is super fun to watch. However, if the weather is not very pleasant, the Darwineum is a convenient place to be inside for a while. Actually, regardless of the weather, you have to go see the Darwineum when you're visiting the zoo. One part of it is an exhibition of Charles Darwin's evolutionary theories in very vivid and palpable ways. I think the exhibition is interesting and comprehensible for different kinds of people and for children as well, but you do have to read a lot and spend like 3 hours there if you really want to see and understand everything there is. My suggestion would be to look at some of it and then move on to the best part of the Darwineum: the Tropenhalle (tropical hall). The trop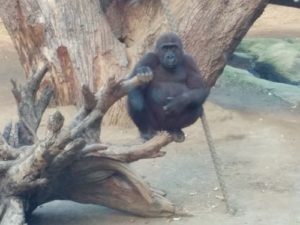 ical hall is where the great apes live as well as many other animals like orangutangs, a two-headed snake and some guinea pigs. Most fun are the apes. It's just so cool to watch the big silverback share his salad with his two roomies: the guinea pigs 😉 And there is one young ape, he's about 5 years old and therefore way smaller than the others, and he just keeps on acting up in front of the other gorillas. He teases them by poking and chasing them around. Best part is when he climbs up onto a tree or stone, puffs up his chest and then beats it with his hands like a drum. It just always looks like he's saying: "Look at me, people! I'm the boss around here." I could crack up every time I see that.
I think that you might have noticed by now that I'm a big fan of the zoo. I would definitely recommend going there when you're visiting Rostock. But here is the hook: The entrance fees are not exactly cheap. It's € 16,00 for adults, € 9,50 for children (4-16 years old) for a day pass. However, you can get a discount if you're a student. For more information on that, have a look at the website.
The zoo is easy to get to by bike, car or public transport. If you're staying in the city center I would recommend taking the tram (6 or 3).
I hope you'll have a wonderful time there.